PRESS RELEASE
RoboteX Announces the Avatar II EOD Robot: A New Tool for EOD and Bomb Teams
---
Features Compatibility with the CarbonFire 10 PAN Disrupter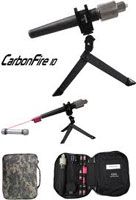 Built on the same foundation as the widely used, industry-standard Avatar II Tactical Robot, the Avatar II EOD Robot features an extendable, five-axis robotic manipulator arm as well as a remote Percussion-Actuated Nonelectric (PAN) disrupter that gives EOD teams new tactical and bomb disposal capabilities. Specifically, the unit integrates with the Carbon Fire 10 PAN Disrupter, a market-leading laser sight and disrupter designed by the Concept Development Corporation.
The CarbonFire 10 mounts easily onto any AVATAR® II system equipped with an AVATAR® Manipulator Arm, allowing the user to aim and fire the disrupter from a safe distance. In addition, the Avatar II EOD Robto features all of the same tactical capabilities and benefits as the Avatar II Tactical Robot, including high-quality video, push-to-talk two-way audio, stair climbing ability, dual IR and LED lights, and a rugged drop-resistant chassis.
The AVATAR® II EOD Robot  represents a brand-new way for EOD teams to engage dangerous objects while keeping their teams safe from harm. Benefits include:
•Mounts easily onto AVATAR® Manipulator Arm using only a few bolts
•Allows EOD and Bomb Tech Teams to safely engage suspicious packafes from a distance using a remote controlled robot system
•Easily climbs stairs with included high angle stabilizer bars
•Enables enhanced visibility of dangerous objects with robot's built-in cameras
•Remote/stand-off activation of the CarbonFire 10 unit possible with a variety of initiator systems.
About RoboteX
RoboteX designs robots for safety and ease-of-use from the ground up, and works directly with end users to include capabilities that are important to them. The robots Robotex develops are affordable, high-quality, and focused on solving critical real-world problems.

Request more info from RoboteX
Thank You!