PRESS RELEASE
RoboteX Introduces Avatar II Robots to Keep Police K9 Teams Safe
---
Avatar II Robots + Police K9S: Working Together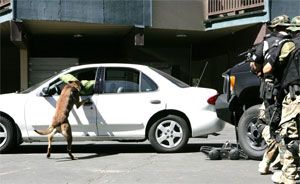 The RoboteX AVATAR® II Tactical Robot represents a revolutionary new way for Police K9 Teams to augment their abilities and clear dangerous locations. Robots and K9′s can work side by side to clear an area, allowing the first responders onsite to leverage each's unique strengths. K9′s can be trained to become quickly acclimated to the Avatar II robot's presence, and the two can be used side-by-side in operation to give first responders increased visibility and detection capabilities.
Benefits:
•Use robot's video cameras to clear an area before a K9 enters
•Use robot's cameras to track K9 as it clears a room – allowing you to see what the dog sees
•Communicate with any subjects the K9 may encounter via the robot's two-way audio communication
•Use the robot's built-in, high-powered LED lights to track K9′s in the dark
•Give commands to K9 through robot's speakers
About RoboteX
RoboteX designs robots for safety and ease-of-use from the ground up, and works directly with end users to include capabilities that are important to them. The robots Robotex develops are affordable, high-quality, and focused on solving critical real-world problems.

Request more info from RoboteX
Thank You!