Ready, set, go! Preparing for 2021 grant opportunities
Advice on getting your team together for success every step of the way
---
Sponsored by Tyler Technologies
By Police1 BrandFocus Staff
In a previous article, we discussed the importance of justifying the need in your proposal and reviewed important components of a grant application, using the example of a Midwestern police department that is struggling to secure budget funding for needed improvements to their failing hardware and out-of-date computer-aided dispatch (CAD) software. The aim was to offer advice on identifying and shaping a justification within your grant application that reflects your need, which enables the reviewer to see the link between your proposed project (to decrease response times) and your budget request (install new hardware and updated CAD software).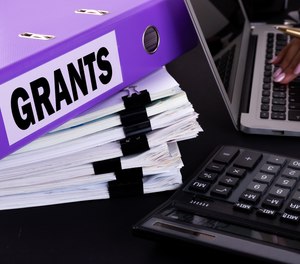 Now that fiscal year 2021 is well underway for many and the 2021 calendar year is here, we will take a look at how to prepare for upcoming grant cycles and provide a closer look into the main grant components and their role in justifying the need.
Prepare: What to expect in 2021
If they have not been announced already, many funders/grantors will begin announcing their grant cycles for 2021 soon. It is important to prepare for the onslaught of potential grant opportunities. About 90% of a grant application is completed before the grant even opens. This includes building a team of stakeholders, collecting data and completing administrative requirements. In the previous article, we discussed the importance of data collection; however, building your team of stakeholders will ensure that your collection efforts are accurate, and your administrative requirements are in place.
To avoid potential delays, missed deadlines, and misallocation of resources, it is important to identify key members of your grant team. This also identifying who you are in the process. You can take part in one role or in several. Just by taking interest in preparing for applying, you are acting as the Grant Advocate. The Grant Advocate is also responsible for identifying and voicing needs, building a team and researching grant opportunities. For instance, the Emergency Manager of the Midwestern police department is the Grant Advocate. The Project Manager is also responsible for locating grant opportunities, maintaining administrative and registration requirements, coordinating stakeholders, compiling Memorandums of Understanding and ensuring the application is submitted. The Grant Writer is responsible for completing the narratives, compiling data and submitting the application. And, finally, the Post-Award Manager will complete all reporting and purchasing requirements along with ensuring project milestones are met.
In this instance, our Emergency Manager could be all of the above; however, it is important to identify these roles in order to ensure a successful grant application and eventually effective post-award reporting.
Another step to prepare for funding is to complete administrative requirements before the application opens. One common administrative requirement is obtaining a DUNS, or Data Universal Numbering System, and a SAM.gov registration, or System for Award Management. This process can take three to five weeks to complete, so to complete administrative requirements before the grant opens will allow you and the team to submit the application by the deadline.
A Closer Look: Application Narratives
Now that the team identified a grant opportunity and are ready to apply, a narrative that clearly explains the applicant's understanding of the need and identifies the project's deliverables is imperative to a successful grant application. In the previous article, we reviewed the importance of demonstrating a justification for the project throughout the application and examined the budget's role. Here we will take a closer look at the remaining components that make up an application narrative.
Problem Statement. In order to create a solid justification, demonstrating a strong understanding of your community's or target population's need will strengthen the application's competitiveness.  Points of data to consider collecting are:
Organizational History (mission statement, background, community facts, etc.).
Demographics (race, ethnicity, socioeconomic status).
Service Data. For instance, for our Midwestern police department, the funding institution may ask, "is the organization responding to more calls in one area of the city over another?" Or, "has there been an increase in calls over the last three years?"
Additionally, remember that data can also be a collection of personal stories of those impacted by the identified problem discussed in the Problem Statement, or qualitative data.
Program Implementation. As discussed in our previous article, the project implementation section serves to connect the need to the solution. Here, you will discuss the who, what, when, and how the project will be implemented. This includes designating responsibilities, explaining processes, discussing key deliverables, and inserting a timeline that demonstrates milestones met throughout the project period. Below are a few recommended items to include:
Project check-in meetings.
For any equipment, expected dates throughout the procurement process until final installation and any training dates.
Reporting deadlines.
Internal project evaluations.
As an example, the department above will layout the expected procurement process for purchasing hardware and software.
Side Note: As an important reminder, be sure to answer all the questions asked in the solicitation. Solicitations vary from one grantor to another, so the awarding agency may request specific deliverables to be addressed in the narratives.
Goals and Objectives. Goals and objectives allow you to connect all components and are used as a guide to your project throughout the period of performance. One simple and frequently used recommendation is to create clear goals that serve as an overall aim and objectives that are SMART, or Specific, Measurable, Attainable, Relevant, and Time-Based. Below are examples from the Department:
Specific: Any target population that will be served and their outcome (i.e., a decrease in mortality rates)
Measurable: This is where you will measure your progress (i.e., number of individuals served, number of calls, decrease in response times)
Attainable: Is the objective possible?
Relevant: Does the objective directly relate to the problem?
Time-Based: Is there a date to when the objective will be complete? For example, will the hardware and CAD software be installed before the end of the project period?
Capabilities and Competencies. This section of a grant application is another example of an application component that can be developed before the application opens. To start, collect resumes and professional background information on key stakeholders, such as the project director, leadership and executives, as well as IT managers. Additionally, collect the job responsibilities of every role involved in the project's implementation. For instance, the Department's Emergency Manager and IT Director will have their resume and job responsibilities on hand to demonstrate their experience in the narratives and, if requested, to attach to the application. The reviewer will see that the Department possesses the capabilities and competencies to successfully implement and complete the project within the performance period.
Noteworthy: Items to Consider and Final Thoughts
Finally, below are key considerations to help you prepare to apply in 2021:
Create a grants calendar: You have started your search and when you find a few great opportunities add the estimated due date to your calendar, or preferably, to a calendar that every stakeholder can access. This will help you get started and plan for 2021.
Start now: Now that you have tools to get started, now is the time to start collecting data and creating a strong project justification.
Brainstorm: Do you need to include personnel in finance and IT? As the Grant Advocate, begin building your grants team and look ahead to 2021!
Get help: Seek out a grants assistance program for help in identifying grant opportunities.
For free customized grant help, including grant research, grant alert notices and grant application reviews, PoliceGrantsHelp.com has partnered with companies like Tyler Technologies to provide access to a team of grant experts. Whether an agency is just starting a project or needs to add the final touches to an application, these experts can help agencies in submitting a successful grant application.
Learn more about Tyler Technologies' grant assistance program.

Request information from Tyler Technologies
Thank You!