8 features analytics software offers to solve crimes
Learn how Hitachi's Visualization Platform helps agencies make sense of the myriad data and video collected by officers on the street and third-party camera systems.
---
The following is paid sponsored content from VION.
By Police1 BrandFocus Staff
Crime analytics software is needed to create actionable intelligence out the massive amount of data and video evidence law enforcement agencies collect, whether that is from body-worn and in-car cameras or gunshot sensors.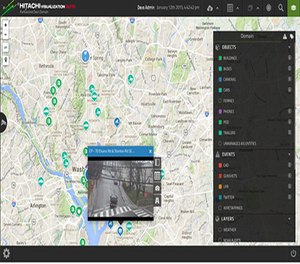 ViON offers one of the industry's most innovative and groundbreaking crime analytics software suites available, Hitachi's Visualization, to help agencies.
The integrated, end-to-end solution has several features that can help cops and law enforcement agencies review, analyze and store video and data to solve crimes. Here's how.
It correlates disparate data.
Hitachi Visualization (HV) consists of Hitachi Visualization Platform (HVP) intelligent edge-capture devices and HV, an integrated cloud and mobile software platform.
Hitachi Visualization Suite is a platform enabling public safety organizations  to correlate disparate data, and video, from any source and present these systems in real time geospatially, said Trent Lowe, account manager of VION public safety. VION is a HVS integrator.
"It is a comprehensive software application that provides a common operating picture for full situational awareness," Lowe said. "This lets decision makers find the assets they need to assess any situation in real time."
It offers cloud storage.
HVS is a cloud-based solution using Microsoft Azure, which is CJIS-compliant.
HVS cloud lets video be shared no matter where a person is located, as long as they have the internet and a web browser — and of course a user account and password. Lowe said the secure hybrid cloud architecture allows the software to easily integrate with third-party camera systems while the systems gateway makes deployment simple.
"It handles all video and data captured along with workflow on premises," he said. "This keeps the sensitive data where it lives currently without having to replicate across data centers or into the cloud."
It supports incident management and investigations.
HVS is a platform to connect third-party systems providing situational awareness, which is critical for command and control of incidents.
Integrating CAD/911 calls, records management systems, social media, gunshot detection are just a sample of the capabilities.
Investigations move to the next level using Hitachi Predictive Crime Analytics, which aids investigators with powerful algorithms that produce a threat level for a specific crime so the proper resources may be allocated.
It manages video.
The video management platform is a turnkey hardware platform that is optimized for video management-system processing and storage. The VMP is purpose built to store the video and metadata efficiently and it is archived for easy retrieval, Lowe said.
In fact, HVS incorporates both storage and compute along with redundancy and fault tolerance for third-party video management systems.
It is interoperable with third-party video systems.
HV workflow modules integrate third-party video management software with critical sensors and systems to provide access control, video analytics, CAD and 911, GPS and mapping.
HVP includes intelligent edge capture devices like recording and hardware equipment: cameras, pods gateways and a video management platform.
Camera pods enable edge recording and analytics capabilities with built-in 4G LTE, Wi-Fi, GPS and optional wireless point-to-point (PTP) and copper connectivity.
These devices integrate with LPR, gunshot detection and CAD or 911 systems
It supports operations during a crisis.
HVP represents a state-of-the-art design optimally suited for crisis and emergency management.
This is because the underlying cloud architecture, Azure, the solution scale quickly during high-demand situations, such as when there is an active shooter, Lowe said.
The gateways can scale from an integrated, single solid-state device to a high-end performance computing environments, allowing the platform to scale from single cameras to thousands of simultaneous streams as they also integrate with private cameras.
"Literally hundreds of users can view camera feeds, get alerts and share information as never before," he said.
It has a user-friendly GUI.
Single Pane of Glass, Hitachi Visualization includes three major components: visualization, analytics and workflow. End users can visualize alerts from sensors, cameras and just about any public safety and third-party system using a single GUI.
All video and data are represented on the map as icons: with one click public safety officers can view a live video stream or a gunshot detection alarm report.
It offers data mining.
HVS can ingest data into the Predictive Crime Analytic Module to gather and even predict where and when crime may occur.
"Public Safety can capture real-time feeds from video, CAD/911 calls, weather, crime databases and online social media applications," Lowe said.
These eight benefits demonstrate why agencies should be investing in crime analytics software — whether the need is to manage, store and analyze data or tap into third-party systems. Now is the time to upgrade your agency.
For more information on HVS, contact VION.

Request information from ViON Corporation
Thank You!