Executive Q&A: L-3 Mobile Vision's PatrolScout®, with Chief Mike Burridge (ret.) – VP of Sales and Marketing
Chief Mike Burridge answers questions about PatrolScout's solution for live situational-awareness in-car video and vehicle location
---
By Greg Bogosian 
Police1 Contributor
The following is paid content sponsored by L-3 Mobile Vision
I recently had the chance to sit down with Chief Mike Burridge (ret.) from L-3 Mobile Vision to talk about their innovative new solution for Live situational-awareness in-car video and vehicle location via a map-centric software product, PatrolScout®, from the standpoint of looking at some common questions that administrators for agencies large and small might have when evaluating the system for their own agencies.  Some of his answers might surprise you.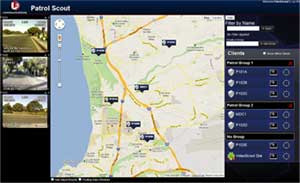 Q: Hi, Chief Burridge, thanks for taking the time to talk to us today.  Probably the first question that many administrators would have when evaluating the PatrolScout has to do with what kind of testing it's already been through.  Can you tell us a bit about that?
A: Sure.  Most times, when introducing new technology, administrators want confidence that they're not getting into something which hasn't been thoroughly tested and had its end-use experience evaluated.  PatrolScout actually came out as a derivative of a product which we've had in use in the military for quite some time now, which was designed to give war commanders live situational-awareness video updates from their drones and  from their soldiers.  We've obviously changed a few things due to the nature of the law enforcement role (in a more general-release environment) as compared to the military role, but this technology has been proven multiple times in uncontrollable and tough environments.
Before we put the PatrolScout out into the field, we did extensive vetting in a lot of different areas, including evaluating and paying attention to the types of existing networks used by law enforcement agencies nationwide for transmitting and receiving mobile data over 3G or 4G.  When the product design was complete and we had some production units, we put them out into the field in a couple of ways: first was that we had several agencies running this with their existing Flashback in-car video systems and evaluating the entire set of functionalities that PatrolScout offers.  We monitored them them to make sure it was working with their existing MDT's and cell modems, regardless of what equipment they were running and on what network. 
Additionally, we have had the units out in our sales representatives' vehicles, testing in a similar fashion as they moved about the country while visiting clients, and have even done some deployed testing with an agency in Europe.  Those tests have had very positive results and feedback.
Q: Thanks.  So, you'd mentioned that PatrolScout was adapted specifically for law enforcement use. What can you tell us about how the system functions, and how an agency would deploy it?
A: Well, the first thing is that PatrolScout is not a hardware-related product on its own.  It is a software add-on to our existing Flashback2 and/or Flashback3 in-car video systems, with added components which run on either a standalone or virtual server, and within a vehicle's MDT, to enable the live broadcasting and viewing of what that in-car video system is seeing.  This, in addition to vehicle information such as GPS location, speed, and other data, are then accessible via a secure browser-based interface on the Web, with granular permissions control to ensure that level of access is properly maintained. 
As far as deployment goes, it's pretty straightforward.  A small server is needed to manage the streams and views for the agency's feeds, along with two 500-GB drives – it doesn't require a lot of storage for saving video streams, because that is still handled by the in-vehicle Flashback2 or Flashback3 units.  In the unlikely scenario where the software goes down, L-3 engineers are available to remote-access the server and fix the issue.
The PatrolScout client would be installed on the MDT's in units which are designated to be able to stream, and remains transparent to the officer unless their stream is actively being viewed, in which case there is an on-screen notification they will see.  Officers can also request that their stream be viewed by sending a "watch me" notification to all logged-in users for the Web portal, so, for example, a dispatcher would see it and could initiate the live stream view, but so could a supervisor in the field who's logged onto the Web portal from his or her MDT.
Q: That sounds like it has a lot of implications for officer-safety considerations as well as the more traditional post-incident analysis which in-car systems have been used for in the past.  Seeing as a lot of dispatchers and supervisors may want to use these for "spot safety checks" of their personnel, as well as perhaps having a visual evaluation of a given incident to coordinate response, what kind of considerations are there for the system in terms of mobile data usage?
A:  Well, since separate software licenses are not needed for each officer, that helps to keep down costs, especially when deploying to a large fleet.  The only time that the stream is utilizing significant data is when it has actively been selected and pulled up to be viewed – otherwise it is only sending a small stream of about 200kb/hour for each unit.  We have added six options for streaming quality which can be set within the PatrolScout interface, to further help keep the bandwidth down if that is a concern. 
There is no limitation on how many users can watch that stream at once, either – once it is selected and up, anyone with the proper permissions who is logged into the browser interface can view that stream, and any such user can also initiate the stream.  Officers themselves do not initiate the stream, however, but as I mentioned they can send a notification that they want to have it up for various reasons by selecting the "watch me" icon on their screen.
As far as officer safety, yes, supervisors and dispatchers can conduct spot safety checks on their officers if, for example, they are out on a traffic stop and haven't communicated in some time.  Usually in the past, when that happened, the usual result was that everyone on the shift would start burning rubber towards their location until contact was made.  This can not only reduce that, but can also help even when people do need to be moving quickly to assist, because they will have a better idea of what they're walking into even if the officer is not in a position to speak.
One other feature which was actually utilized by one of our test agencies, who continually found new uses for the system, was that their supervisors could pull up recorded clips which occurred earlier in a shift if their officers couldn't get back in time for shift change.  Similarly, if there has been an incident which is no longer visible upon accessing the live stream, and the officer is unable to communicate, it would be possible to access a recording which might, for example, show a license plate number and thereby aid in the pursuit of a vehicle if necessary.  I'm sure there are a lot of other possibilities out there as well, especially since an agency can organize their units into logical groups within the interface – it would become possible to monitor just one sector if there is a major incident, for example.  We're looking forward to hearing how folks are actually using the PatrolScout as they deploy it in their own unique environments.
Chief Mike Burridge (ret) is a 26-year Law Enforcement Veteran. He served 22 years with the Santa Barbara County Sheriff's Department, where he reached the rank of Sheriff's Commander before serving 4 years as the Chief of the Farmington, New Mexico Police Department, a 120 member CALEA accredited agency located in Northwestern New Mexico.  Chief Burridge is a graduate of the FBI National Academy and FBI LEEDS program, and holds a Bachelors degree in Business Administration along with a Masters Degree in Organizational Management and Development.
For five years, Chief Burridge served as the Chairmen of the IACP In-Car camera committee and Digital Video for Public Safety Advisory Panel. He was also an active board member of the IACP TTAP (Technical Technology Assistance Program) and contributing author for the TTAP Executive Information Manual. Chief Burridge is a recognized expert on in-car camera and digital video for public safety. He has been a featured speaker and presenter on In-Car Camera programs and management and Digital Video for Public Safety at IACP, IACP-LEIM conventions and training sessions.
Since retiring in 2007, Chief Burridge has served as a Public Safety and First Responder subject matter expert for several organizations. He is currently the Vice-President of Sales and Marketing at L-3 Mobile-Vision Inc., the world's leading In-Car Camera manufacturer.