PRESS RELEASE
CoBRA Assists Responders' Ability to Survive and Operate
---
Defense Group Inc. (DGI) CoBRA Software division releases the new Ability to Survive and Operate (ATSO) Toolset.

Initially designed for Military Installations to respond and recover after an attack or natural disaster, this powerful web based toolset also meets the needs of civilian First Responders when dealing with incidents such as Active Shooter, Hazmat Spill Bomb Threat, Campus Security and Major Storm Restoration of Operations.

ATSO allows users to create color coded "zones" within an area, from school campus, to sports stadium to military installation.  ATSO facilitates dispatching and tracking of response teams to survey and clear those zones. ATSO can be used for Operational Readiness Exercises and Inspections.

All existing and new CoBRA customers who utilize the CoBRA Collaboration platform will receive this set of tools as part of the standard client/web application solution.

CoBRA Collaboration platform syncs all CoBRA users together for real time information sharing and common operational picture. Shared map view, shared incident data, and ability to track users on a map are just some of the features.

These tools add to the already robust CBRNe Decision Support capabilities that CoBRA software provides.

ATSO tools will soon be available for DGI's TACT software customers as well.  Tactical Aid and Collaboration Toolset (TACT) software solution provides specific tools for use in the management of hostage and barricade incidents by building complete situational awareness via digital tools and data specific to the crisis negotiation team and situation.
                                                                                                           
To find out more about DGI's new ATSO tools, call 877-233-5789 Option 1 or email cobrasales@defensegp.com or visit www.cobrafirstresponder.com

About CoBRA Software
CoBRA WEB version is an all-hazards incident management solution that provides synchronization and collaboration for the users of the CoBRA desktop client version, as well as providing thin client (Web) access to incident information and CBRNe data via a browser. CoBRA software has supported the United States Military and First Responder community for over a decade and has been deployed to US Military Bases worldwide providing all hazards decision support and information dominance.
CoBRA software is an easy to use application that provides quick access to critical information that First Responders and Military Personnel need when planning for or responding to day to day operations as well as mission critical events.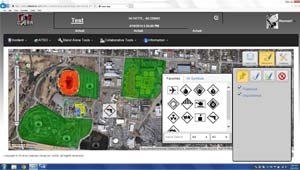 CoBRA is a product of Vienna, Virginia based Defense Group Inc, a veteran owned small business which brings over 25 years of experience supporting the military and federal government with tools and expertise in emergency management.