PRESS RELEASE
RapidDeploy to exhibit at IACP Booth #1690
---
RapidDeploy to meet with law enforcement leaders at annual International Association of Chiefs of Police
RapidDeploy, a leader in cloud-based Computer-Aided Dispatch (CAD) technology, is set to exhibit at the annual IACP Conference and Expo, Oct. 6-9 in Orlando, FLA in booth #1690. Join the RapidDeploy team in discussing NG911 and a safer future for policing.
RapidDeploy became the first CAD system worldwide to receive ProQA Titanium Certification from Priority Dispatch, which allows emergency communications centers to integrate with International Academy of Emergency Dispatch (IAED) protocols.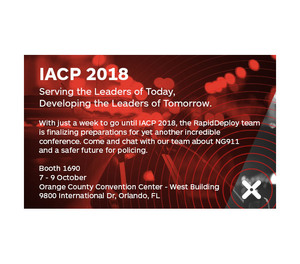 About RapidDeploy
RapidDeploy is an innovative cloud-based call-taking and Computer-Aided Dispatch (CAD) platform serving public safety and other markets. Designed by first responders, RapidDeploy uses leading technologies to solve the key challenges faced by emergency services providers. RapidDeploy simplifies the complexity of emergency dispatch through precise address location, improved situational awareness, allocation of appropriate resources for optimized response, mobile field service apps and advanced incident management tools. RapidDeploy's end-to-end solution enables effective coordination of all active resources as well as full audit trails for quality assurance. Founded in 2014, RapidDeploy has built a loyal following of clients and is now launching its solution internationally. RapidDeploy is setting the standard for Mission Critical Dispatch. Learn more at rapiddeploy.com.