Disaster-proof: How Mobile Incident Reporting Systems keeps your department connected
Complete, fully mobile end-to-end dispatch and RMS in one convenient package
---
The following is paid content sponsored by Mobile Incident Reporting Systems
By Police1 BrandFocus Staff
In a disaster, traditional communications infrastructures used by departments can be wiped out in an instant. You only need to look back as far as Hurricane Sandy to see evidence that those lines of communication can and will go down. Having a fully mobile, flexible solution is essential to being able to manage and coordinate the deployment of officers and resources when it matters most.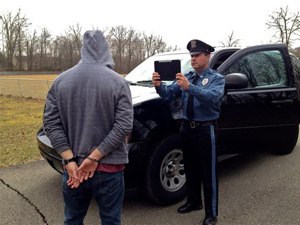 Would having the capability to send and receive information instantly, communicate with anyone using audio and video, and send and receive pictures and videos anywhere—in the squad car or on foot—enable law enforcement to do their job better? Would being able to keep that functionality even if their headquarters was compromised help maintain order in an emergency?
The Mobile Incident Reporting Systems team thought so. That's why they worked with a 20-year veteran of the force to create a custom-built solution from scratch. The Mobile Incident Reporting Systems solution consists of, dispatch and reporting incident management software integrated into ruggedized tablets and touch screen monitors, enabling officers to "bring their offices with them" wherever they go.
Comprehensive communication
The ruggedized tablet is designed to be easy to use and offer all the capabilities an officer may need. Want to fill out an incident report by dictation? You can. Want to quickly take photographs of the scene and attach them to the report? You can do that too. How about a video? That's also as easy as a voice command. What if you needed to run a plate or check NCIC while conducting an interview inside a building? You can have the results in seconds. Once the report is completed, it can be submitted electronically and stored in the cloud. All information transmitted is secure and encrypted.
In addition, the Mobile Incident Reporting Systems solution has translation functionality built in, allowing officers to translate necessary information (like Miranda Rights) in real-time at the scene without needing to find a translator.
Durable & easy to use
The Mobile Incident Reporting Systems solution is designed with the life of a police officer in mind. The ruggedized tablets use a strong internal frame made to resist drops, water, dust and heat while the display panel uses Corning Gorilla Glass—four times stronger than standard screen material.
The tablet has an eight-hour battery life, and includes Bluetooth, Wi-Fi, and built-in Gobi 3G/4G mobile broadband as well as the ability to run on any major carrier. This means that any department can use the Mobile Incident Reporting Systems solution without switching to a different carrier. It was designed to be easy for departments to integrate into a legacy system, built from the ground up to be forward and backward compatible.
It's also extremely easy to use. If you can operate a smart phone, you can use the Mobile Incident Reporting Systems solution. Its touchscreen technology is intuitive, and its voice transcription software allows officers to dictate reports directly into the system without having to write them out.
More efficient policing
Using durable tablets in the field acts as a force multiplier—increasing officer efficiency and allowing fewer officers to do more and be more effective. The time consumed by report writing can be reduced when officers can simply dictate them into the RMS software. Officers can easily take photos or video of the scene and attach them directly to the report, making it easier for departments to comply with evidence requests.
A live-talk feature allows supervisors to speak to officers in the field and see what's going on at a scene in real-time, providing interactive management and guidance when necessary.
Finally, Mobile Incident Reporting Systems updates are pushed out regularly and at no additional cost, meaning that every department can take advantage of the latest updates.
There is an increasing awareness in the law enforcement community of the gaps in capabilities that solutions like the Mobile Incident Reporting Systems one can fill. A solution that enables officers to communicate with one another, access records and make comprehensive reports from the field increases the time that officers can spend doing what they want to do—and what the public needs them to do: their jobs. Perhaps more importantly, it allows departments to continue to operate even under the most disastrous conditions.