Has your agency unleashed the power of modernization? (eBook)
Here's how cloud-native technology can help law enforcement overcome common challenges
---
Sponsored by SOMA Global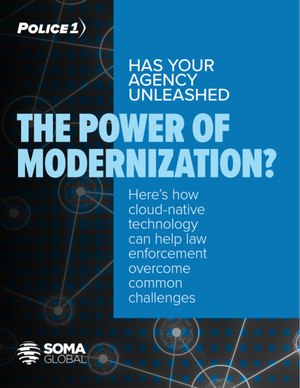 Gaps in communication, earning community trust, and recruitment and retention are just some of the common challenges facing law enforcement agencies today. In this eBook, we uncover how modern technology can help departments overcome these hurdles while improving officer efficiency and efficacy. You'll also learn how your agency can implement new tech tools quickly and in a cost-effective way.
Download this eBook to learn:
How many of today's agency challenges are linked to outdated technology.
Which tools can help your department overcome common pain points.
How one agency adopted new tech options to improve their operations.
Find out how modern technology can help your agency