How the Norton Police Department saves time and money with AWS Public Sector Partner SOMA Global
The SOMA platform has exceeded expectations, making sure critical emergency call-taking and dispatching continues
---
By Andrew Jones and Scott Montgomery
"You all are family to us. We will never forget in our time of need you stopped everything you were doing to help us," said Sergeant Bucky Culbertson to describe the impact of working with Amazon Web Services (AWS) Partner SOMA Global (SOMA). In early 2020, the Norton Police Department's (NPD) on-premises, legacy system, failed them for the last time. Lifesaving services were down. To revive them, NPD made the decision to go live on the SOMA public safety platform – six months ahead of the scheduled cutover date.
Despite the early deployment, the SOMA platform exceeded expectations, making sure critical emergency call-taking and dispatching continued. Using SOMA also helped NPD cut costs and save time.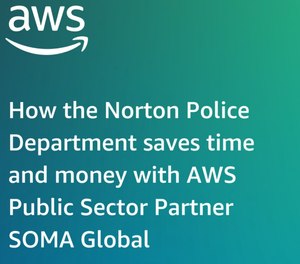 Read on to learn how the NPD found a successful partnership with SOMA Global in their time of need.
The deployment and results
SOMA is a leading technology partner providing critical response and operating software solutions for law enforcement, first responder, and government agencies. SOMA's intelligent pre-built applications and solutions are built to empower agencies to solve complex software modernization challenges with little to no training, as evidenced by NPD's quick and successful deployment.
Prior to 2019, NPD's on-premises system was failing the agency in workflows and other important day-to-day agency tasks. Since deploying the SOMA platform, NPD has recognized numerous benefits. "I spoke to the Chief the other day and we were reminded how SOMA's system helped us. For example, because of SOMA, prosecutors have access to our court system, saving us about $40,000 annually in the discovery process alone—no more burning copies, no more redundant task entry. Just that one tool alone is so powerful for our time and budget," said NPD Sergeant Bucky Culbertson. These annual savings in time and materials come from processing case files through a cloud-native information exchange with the local prosecutor's office.
SOMA's ecosystem is built from the ground up on a modern technology stack, deployed securely in the cloud in partnership with AWS, with a user-friendly and device-agnostic interface. Some of the cloud services used include AWS GovCloud (US), Amazon API Gateway, AWS Lambda, and AWS Fargate. AWS GovCloud (US) is an AWS Region designed to host sensitive data, regulated workloads, and address the most stringent U.S. government security and compliance requirements. Amazon API Gateway makes it simple for developers to create, publish, maintain, monitor, and secure APIs at any scale, and AWS Lambda is a serverless, event-driven compute service that lets you run code for virtually any type of application or backend service without provisioning or managing servers. Together, these services allow SOMA to scale automatically to meet the growing technology needs of clients without compromising on Criminal Justice Information Systems (CJIS) Security Policy compliance.
Impact on the PD and beyond
With greater data-sharing and collection capabilities, NPD's officers are more productive and effective. Inefficient tasks and processes are now automated, which ultimately saves officers time and allows NPD to focus on serving the community. One example is the SOMA Freedom of Information Act (FOIA) module, which "can process requests 10 times faster than before. This allows NPD to streamline data-sharing and enable access from any designated connection point," said Sergeant Culbertson.
Additionally, leveraging SOMA's historical records module has helped with digitizing records previously in paper form. "We completed a one-time scan entry. Then we built a search capability in SOMA within minutes for swift visibility to enable our officers to respond to active calls in a more informed and timely manner."
Saving time and cutting costs are not the only reasons NPD is happy with its decision to launch with SOMA. The relationship between the agency and the technology provider also plays an important role. "…[SOMA] felt like family," added Sergeant Culbertson. "Everyone has been very respectful and [SOMA] has always met or exceeded expectations…It's a true partnership and one with a longstanding future."
Learn more
SOMA Global empowers public safety and government agencies to build safer, more resilient communities through modern technology. The SOMA solution streamlines software with a unified ecosystem of pre-built applications, workflows, automations and data interoperability. Its enterprise platform includes four key suites – critical response, incident management, courts and corrections, and administrative – that empower state and local organizations with the tools they need to better protect the communities they serve. Visit SOMA to learn more, or find them on Twitter, Facebook, and LinkedIn.
Learn more about how justice and public safety agencies use AWS to support their missions.

Request information from SOMA Global
Thank You!