Proactive policing: How officers keep coming back to what matters
Learn about five ways officers can use software as a tool to practice proactivity
---
Content provided by CivicEye
Law enforcement officials across the United States are focused on building local community trust. Meanwhile, many agencies and officers are simultaneously dealing with understaffing and growing burnout.  
Even in the midst of challenging circumstances, police officers can continue to make a difference and embrace their communities. One way to do this? Proactive policing.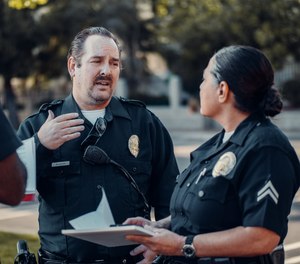 In our reaction-driven social media era, it's important to remember that proactivity can make an enormous difference. 
Officers like Corporal Ryan Tillman are already implementing proactive practices. In addition, Tillman, a law enforcement officer from Chino (Calif.) Police Department, has created a thriving social media platform designed to break down barriers between law enforcement and the community.  
Tillman, the founder of Breaking Barriers United, believes that officers can successfully create change and trust with the general public. 
His first piece of advice? "Get to know your community before you have to know your community," Tillman said. 
Addressing the Gaps 
Here's the problem: many officers feel swamped with administrative tasks and report writing. Instead of spending most of their time patrolling, many officers are left frustrated as they try to re-do incomplete or invalid reports. Moreover, they may be forced to return to the department building to access outdated hardware and software.  
For example, in Sacramento State's Police Department Reporting Writing Manual from 2014, the agency argues that nearly half of an officer's time is spent writing reports. 
Tillman, co-host of #ITSNEEDED podcast, alongside fellow co-host and law enforcement officer Anthony Johnson, invited CivicEye CEO Khristian Gutierrez to talk about how technology can help officers embrace proactivity.  
Throughout this article, we'll reference this conversation and how Tillman, Johnson and Gutierrez examined challenges that officers face, as well as ways officers can use software as a tool to practice proactivity.  
5 Ways Software Can Support Proactive Policing 
1. NIBRS reporting doesn't have to be hard. 
As agencies across the country implement National Incident-Based Reporting (NIBRS), many are feeling the strain of older software that can't keep up. NIBRS reporting, compared to SRS (Summary Report System) reports, require significantly more information, which can make lengthy reports even lengthier. Without updated software, officers are often left re-entering the same information multiple times or returning to the same report to correct errors down the line. 
Updated software, like CivicEye's CivicRMS, instantly validates all fields and ensures that an officer's report is NIBRS compliant. Write a report once – and write it right. 
NIBRS reporting can be simplified, but it also can greatly impact police and community relationships through increased transparency. 
"With data collection, it started to shed light on what we've been trying to shed light on the entire time," Johnson explained. "These are important stats to get to people so we can show the world that this is the work that we're doing."  
Officers like Johnson believe that reporting will help communities see accurate statistics on what officers are doing, and, therefore, show communities the reality of officers' work. 
2. Real-time data analytics to know what you're doing when and where. 
Software with real-time data analytics allows officers to see what's going on around them and better visualize their landscape. Particularly for officers who want to implement proactivity, it's necessary for officers to be able to monitor incidents from previous shifts and from other officers during their shifts. 
CivicRMS seamlessly integrates into existing CAD, which allows officers to have live access to updated data, which keeps officers safer, but also allows officers to better respond to incidents based on recent history.  
Tillman, like Johnson, argued that analytics can help tell a truer story about officers and their work.  
"It's our responsibility to shift narratives and shift how people see things, in order to create value and shift how we move forward and improve with the future," Tillman said. "Data can reaffirm the great work that you've been doing." 
3. Access information anywhere, anytime on the cloud. 
Updated technology, such as cloud-based platforms, allows officers to access information and reporting anytime, anywhere. Instead of having to return to the department, officers can write reports on-the-go and pivot back to patrolling. Additionally, cloud-based platforms offer heightened security, protecting all CJI.  
CivicRMS's cloud-based system keeps users online wherever they are and it organizes all information in one centralized location. 
4. Less administrative work, more focus on patrolling. 
Instead of scrambling to track personnel, various training calendars and other systems across multiple platforms, choose to implement a platform that does it all. CivicRMS allows users to monitor personnel and their training timelines, while seamlessly integrating with existing CAD and JMS. 
From within the RMS, users can add warrants, track arrest history, manage citations, view incidents and visualize data analytics. Plus, CivicRMS allows users to easily send cases straight to the district attorney, securely transferring information to prosecution. 
Gutierrez explained that he believed tech, like CivicRMS, is an "opportunity to help the great work that law enforcement is doing, that prosecution is doing, and do it in a way that helps accelerate the good work that's already being done – but help decrease the inefficiencies that come from either a lack of architecture, or disparate architecture, or just breakdowns generally in communication, either inside of cities or agencies or across other cities and agencies." 
5. Select software with a tech support and client success team that's by your side – 24/7, 365 days a year. 
With any software product, tech support and client support teams are essential. It's vital that users have real-time access to a team that will fix errors and answer questions. CivicEye provides every agency with a Client Success Manager who's dedicated to maximizing their success. With 24/7/365 tech support, officers can rest assured knowing that their software is adaptable, flexible and modern. 
"Our company is being run by, supported by and from all different angles former law enforcement, current law enforcement – that's just in the DNA of the business. We aren't just a bunch of tech people on the West Coast with a whiteboard saying, 'Hey, I think we can go help police.' That's not what happened here. There's a storied history that comes from inside police agencies and departments," Gutierrez said. 
Invest in software that's created by law enforcement, for law enforcement – and invest in a software company that's dedicated to investing in your agency's success. 
Takeaways 
Updated tech can save officers' time and allow them to focus on their communities. Instead of spending their time re-writing reports or searching for files, they can use their time patrolling, getting to know their communities and making a difference. 
To learn more about how technology can help law enforcement proactively police, check out Tillman and Johnson's podcast #ITSNEEDED, where Ryan and AJ speak with CivicEye CEO Khristian Gutierrez on the impact that tech can make. 
Get in Touch 
Follow CivicEye on Instagram and LinkedIn, and make sure to follow along with Ryan Tillman and Anthony Johnson's work across social platforms. 

Request information from CivicEye
Thank You!