Ocean Systems Announces QuickEnhance AudioSuite Version 2 for LE Video Professionals & Forensic Analysts
---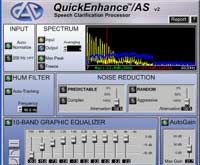 Good News to Ocean System's AVID & Pro Tools Users - The finest audio clarification plug-in on the market just got better! QE-AS V2 delivers more visual analysis, more precision, and more control for users interested in quickly reducing interfering noise problems on audio and video surveillance recordings. Clarify speech with QuickEnhance AudioSuite!
Update your current version of QE-AS online at www.dacaudio.com. There is no charge for existing QE-AS users!!!
Or contact your AVID/OCEAN dealer for pricing today on this new technology. You can visit our partners online at www.oceansystems.com for more information.
Make QE-AS an integral part of your forensic video analysis system. Remember, a verbal confession is worth a thousand images -- let QuickEnhance AudioSuite help you nail the case shut! When every effort is being made to catch the bad guy, be sure you can hear him say, "I did it."
QE/AS Version 2 delivers this powerful functionality:
Auto-Tracking Hum Filter to attenuate Hum automatically within wide frequency range
1024-Band Spectrum Analyzer for excellent visual representation and analysis of audio signals (including peak indicators, input & output comparison)
Auto-Normalizer for maximization of signal amplitude
Improved, easy-to-use GUI design for maximum control and efficiency
Free Upgrade to Version 2 for current QE-AS customers
Easy System Integration eliminates complicated file management & import/export issues
Visit
www.dacaudio.com
(PDF) for Detailed Specifications.