10 hot products on display at SHOT Show 2019
From a new Maglula loader to backpack ballistic armor, the range of new products at this year's SHOT Show did not disappoint
---
SHOT Show always has hundreds of accessories that can make cops more effective both on and off the job. Here's my selection (in no particular order) of 10 hot items showcased at SHOT Show 2019.
1. Benchmade knives
I am a huge fan of Benchmade knives, and the Barrage is my EDC. The Emmisary is a 3.5" assisted-opening (AXIS assist) knife with black or aqua aluminum bolsters. Designed by Warren Osborne, it is available with a plain or serrated silver blade for $240. I don't know how they did it, but the knife is "grippier" than my Barrage even with wet hands.
Under penal Code 635k, Californians cannot carry an automatic knife over 2" long even if they are sworn LE. Benchmade heard the call and developed the $185 pushbutton-open Impel. You won't even know you are carrying this knife until you need it. Great for deep cover use. 

2. Magpul DAKA pouches
Magpul's DAKA pouches are made from polymer-infused textiles that are RF welded on all seams and use a genuine YKK water resistant zipper. The zipper pulls are 550 paracord with heat shrink tubing for enhanced grip, even with gloves. These pouches are designed for applications such as storing tools, reloaded ammunition, or batteries, as well as lighter duty use such as organizing personal electronics accessories. They come with or without windows and are water-resistant to keep items dry in most wet environments. Specialized sizes for suppressors are available.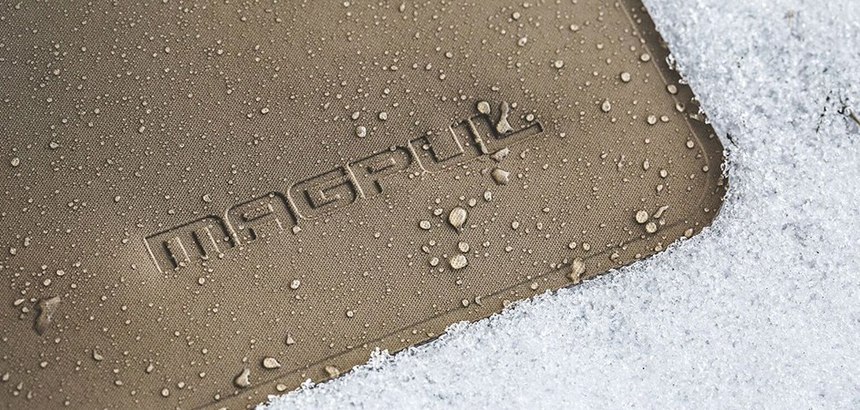 3. Maglula 5.56/.223 BenchLoader
Many of us have a pocket Maglula loader for our handguns. The new heavy-duty Range BenchLoader is designed to load a 30-round mag in a single hand stroke. Intended for daily loading of hundreds of magazines at shooting ranges and armories, it helps eliminate finger pain and injury, shortens loading time and keeps the magazines lips intact. Versions are also available for the HK G36 and IWI Galil.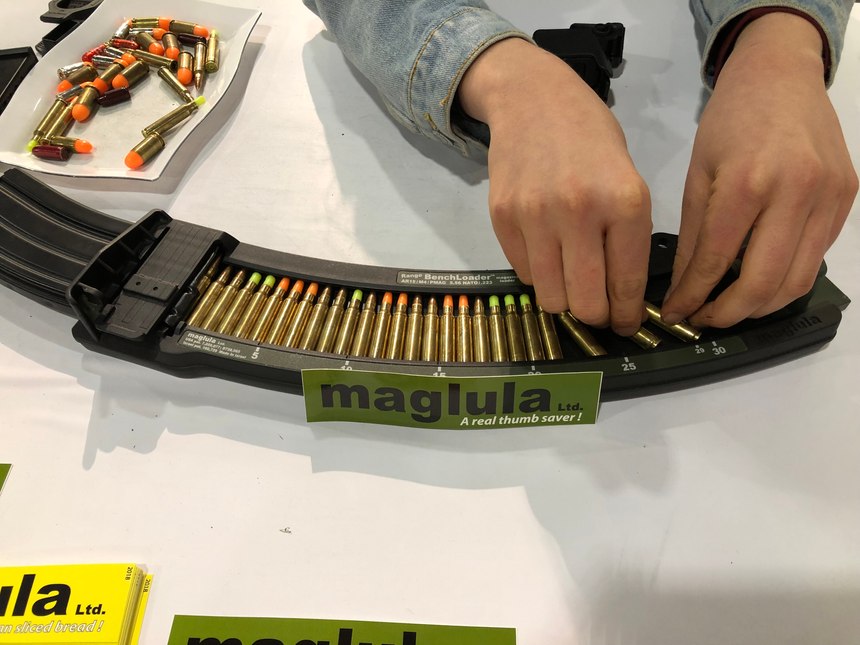 4. SiOnyx Aurora color night vision camera
SiOnyx originally sold its "black silicon" chips to the U.S. government (20M of them to the army in their latest contract) and, after many requests, decided to build its own unit.
The Aurora is not a thermal imaging unit, but a true IR/visible light camera using patented ultra low-light IR sensor technology, which means it needs an illuminator in total darkness. The $799 handheld can display video in black and white or color locally on its viewfinder and it can be sent in real time via Wi-Fi.
The Aurora also can be placed on a mount and controlled remotely via smartphone app. At this time Aurora can only be sold in the U.S. and Canada. For LE pricing, contact dan.cui@sionyx.com.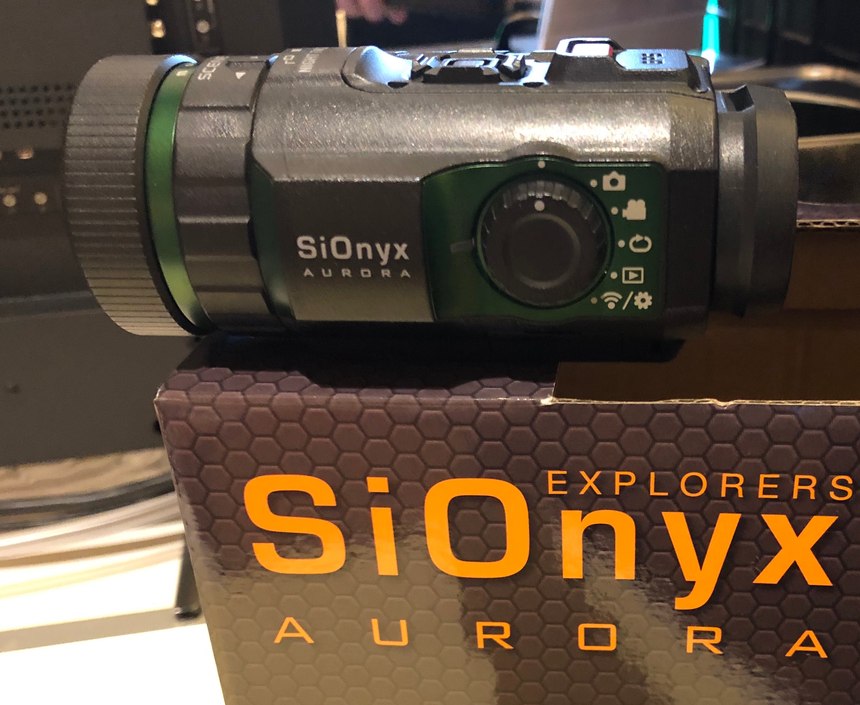 5. BarrelBuddy 3-D gun cleaning patch
I don't want to get into a bore snake versus patch discussion; some like one, some like the other and I use both. One advantage of patches is that it is easier to tell that your firearm still needs some love because the patches will come out dirty until you are done.
BarrelBuddy patches are not really patches at all but are cylinders molded from two types of plastic that make tight 360-degree contact with the barrel, thus cleaning the rifling grooves. Attach a jag of appropriate size for the gun you are cleaning to a standard rod, dip the BarrelBuddy into your favorite cleaner, pop it into the barrel or cylinder, then push it through slowly.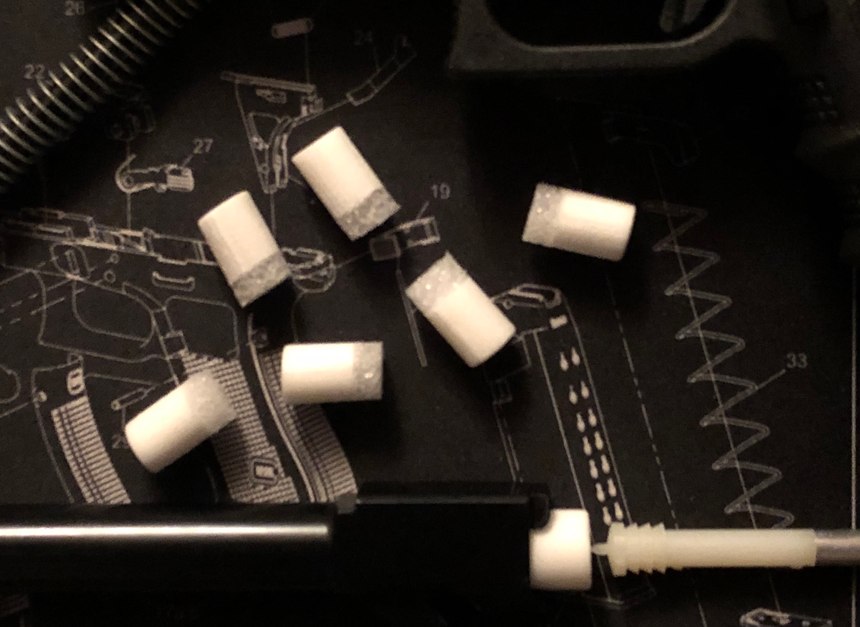 6. Ballistipax backpack armor
I am a huge fan of off-duty carry where you don't look like you are carrying. In my opinion, a tactical backpack screams, "Shoot me first." Ballistipax has built armor carriers into an ordinary-looking backpack that also has an integrated, and completely hidden, MOLLE system for carrying weapons, handcuffs or first aid kits. When danger appears, reach over your shoulder, grab the handle and pull the soft armor carrier over your head for front and back protection. POLICE patches can be attached to the hook and loop panels to identify you when you deploy.
From students to first responders, the company's Survivor-1 combines over-the-head single-handed soft armor deployment with customization for any standard NIJ Body Armor. The pack can carry up to 80 lbs, and the plate carrier is easily removed and interchangeable with other Ballistipax backpacks.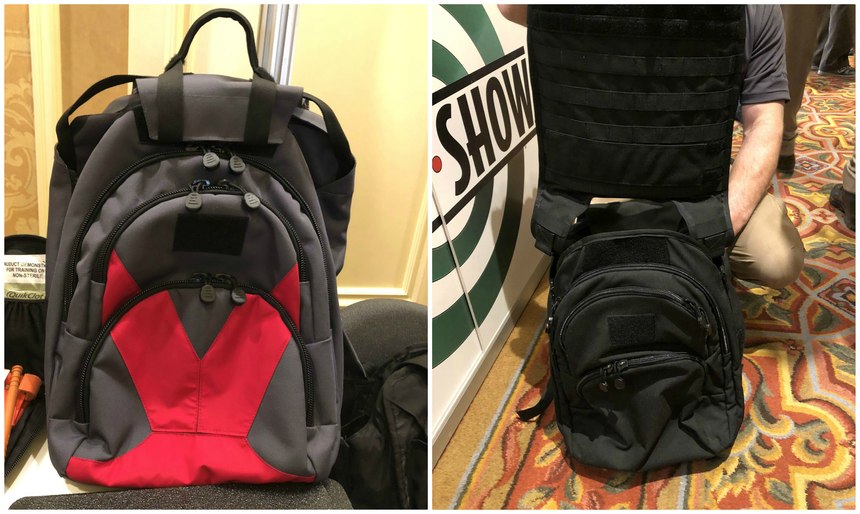 7. LaRue riflescope mounts
Mark LaRue been a machinist most of his life, and it shows. All LaRue AR scope mounts are precision-machined in his own CNC machine shop out of aluminum bar stock and are anodized. The locking LaRue Speed Levers mean that the optic can be removed and replaced without loss of zero. The latest generation uses a captive lever-tension adjustor nut that doesn't need any tools – great for when you are on a mission. I asked him how it works, and he told me that was one reason the nut is captive; it's a secret. He also showed me a Cagulowa (CArries GUn a LOng WAy), a hand-made leather handle that fits any scoped firearm. When I asked if carrying a rifle by the scope would throw off the zero, his comment was, "Not with my mount it won't!"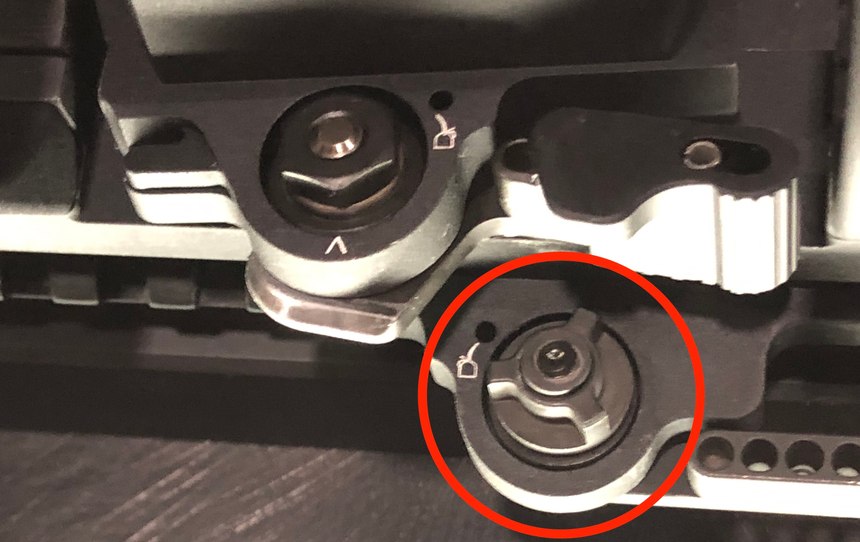 8. Concealment holsters
Getting back to off-duty carry, you need a good holster that conceals well, protects your firearm and is easy to draw from. Even though I cut my teeth carrying with an index-finger release OWB holster, my county rangemaster will not allow it on his range for safety reasons, but still requires a locking system.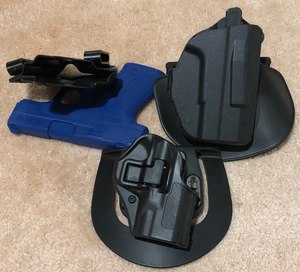 Safariland was showing off its ALS (Automatic Locking System) line. Simply place your thumb on the locking lever while you are gripping your firearm, push it back and pull the firearm straight up. Because of our hand geometry, pushing on the thumb lever makes the holster feel spring-loaded for a very fast and easy draw. The holster comes in belt and paddle models.
For IWB, the Bravo Concealment Torsion is interesting because the Kydex backing is curved to hug your body better for more comfort and less printing. It also is one of the few IWB holsters offering retention because it is firearm specific and aggressively molded. While it has two belt clips, the slide-side clip can be removed, and the trigger-side grip has space to tuck your shirt in between your pants and the holster for a more formal style of concealment. Whatever EDC holster you choose, make sure you practice with it to build muscle memory.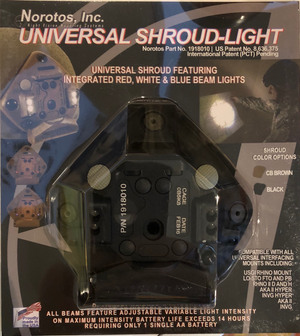 9. Norotos night vision mounts and shrouds
Designed to replace plastic lower-strength mounts, the made-in-USA Norotos products are machined from solid metal with 3D-printed parts. Options include a 300 ft. IR illuminator and multiple solid color and strobe options. The universal shroud light has an optically aligned light integrated into the shroud so that user head movements guide the direction of the available red, white, or blue beams. LE and military pricing is available upon request.
10. DryFireMag
Many trainers endorse dry fire practice, whether at home, on the road or at the range. But unless you have an airsoft, laser practice pistol or have equipped your own pistol to automatically reset the trigger, you need to rack it before each shot – building muscle memory that could get you killed. DryFireMag has a line of magazines that give your own Glock or Smith and Wesson M&P sidearm an auto-reset trigger.
The DFM mechanism is contained within the body of the magazine and only interacts with the trigger bar. This means it doesn't touch your firing pin, which is a good thing, but also means that it doesn't work with firing pin-activated laser trainers. DFM is working with a handful of companies to get that resolved, so watch the company's website.
For more SHOT Show coverage from Police1, visit https://www.police1.com/shot-show/.

Request product info from top Police Thermal Imaging companies
Thank You!