Best LE glass of SHOT Show 2020
Low power variable optics are a growing market in law enforcement
---
Here's a roundup of ocular delights I found while perusing the miles of exhibits at SHOT Show 2020. This is in no way a complete list, just some of the more interesting applications for law enforcement. These items offer an array of value to departments small or large, and they come in at prices based upon their features and functions. 
Low power variable optics (LPVOs) are a growing market in law enforcement and many manufacturers are chasing or helping set this trend. 
Several companies had new offerings, while other well-established companies took their entries to the next level.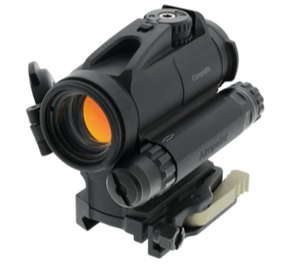 Aimpoint CompM5B
The reputation for durability enjoyed by Aimpoint products is neigh legendary. Adding in extra features just sweetens the pot that much further – so it is with the CompM5b. 
An already proven red dot platform for rifles, this evolution now includes an adjustment for ballistic drop. Users can switch the 2 MOA dot by an adjustment, allowing them to shoot known distances. The turrets are also interchangeable for different calibers, adding more diverse utility. There is also an input to help you compensate for windage. The unit runs for 5 years on a AAA battery. The CompM5b is scheduled to be released this spring and MSRP has not been determined.              
Steiner MX8i IFS 1-8x24
Steiner has been making military-grade LPVOs for a while but the company upped the value with this amazing optic. Not only does it feature the rugged quality the brand is known for, but the MX8i has a ballistic sensor suite. 
IFS stands for Intelligent Firing Solution and you can see it displayed digitally above the reticle when you look through the optic. 
An array of data such as range to target, cant indicator, turret settings and user input wind speed can be reviewed so your first shot is a hit. There is also Bluetooth connectivity so the scope can work with other devices. This technology is impressive but costly at $7,199.99.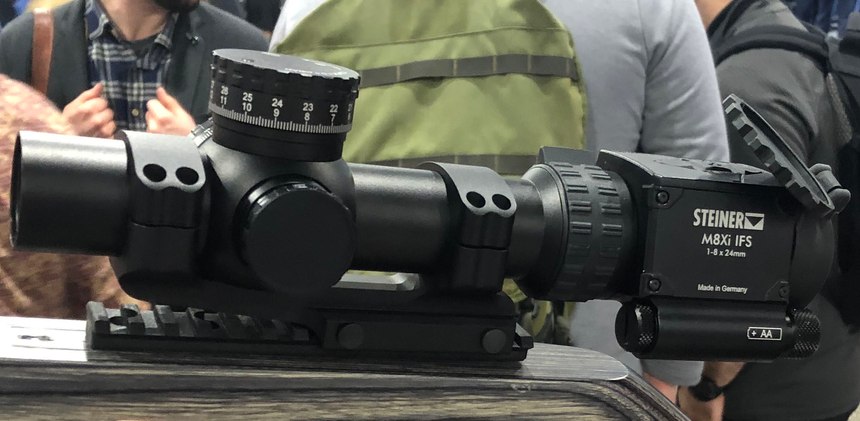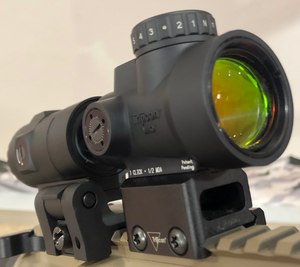 Trijicon MRO HD & 3x Magnifier
The Trijicon MRO is a great red dot for rifles and the company released an HD model at SHOT Show in conjunction with a new 3X magnifier. 
I've tried combos like this before and they were heavy and a bit clunky – not so with this pairing. The MRO HD still has one of the largest viewing windows for target acquisition and unlimited eye relief, and it features a red dot that switches to a bigger, round reticle with hashes for close-in targeting. The 3X magnifier snaps neatly and securely out of the way without rattling or moving and provides good magnification when lined up with the MRO. 
The combined pair weighs in at just over a pound. They can be purchased together starting at $919.00, but are also available separately.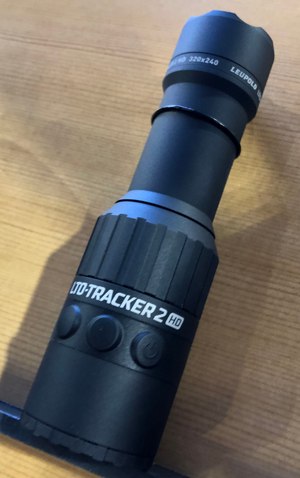 Leupold LTO-Tracker 2 HD
Thermal technology has come a long way since it was first wrangled for law enforcement use. The LTO-Tracker from Leupold is the size of a small flashlight, but it is a thermal monocular that allows you to see in the dark. 
Keep in mind, thermal is not night vision, but this tool has amazing applications for police and emergency services. 
Being able to see heat sources in the dark would help you find a suspect hiding in the dark (at distance) or help locate a missing child. It would also be highly beneficial for hunters in finding downed game. 
The unit is ruggedly built and has a 3-hour run time on a CR123 battery. The HD unit costs $967.99 though the standard Tracker is $644.99.
Vortex Razor HD Gen III 1-10x24 FFP
Vortex is another name that is well known to law enforcement. The company has been advancing the LPVO market by leaps and bounds, but just upped the ante with its 1x10. I was able to view this scope at SHOT Show and needless to say, it is quality. 
The first thing that struck me was the lack of parallax at 1x. I also really like the fact that it is first focal plane, allowing me to still see the reticle well when greater magnification is dialed up. The Razor has always been known as the upper echelon of offerings from Vortex and the new Gen III carries that tradition forward. The 1-10 truly fits the needs of the law enforcement officer who might have to address targets across the hall or a field. Available now, this LPVO has an MSRP of $2,899.99.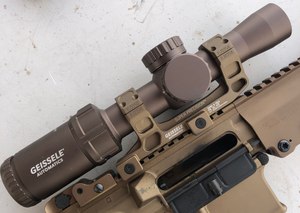 Geissele Super Precision 1-6 DMMR-1
Geissele, a Pennsylvania company famous for high-end gun parts, recently shook things up by offering full rifles. Continuing in this trend, the company debuted a 1-6 LPVO at SHOT Show. The optic is manufactured in Japan and utilizes Japanese glass, but it is designed to Geissele's exacting standards.
I was able to test the DMMR-1 at SHOT Show Industry Day at the Range and it was sharp. The reticle is useful without being busy and the clarity was wonderful. I liked the built-in throw notch to adjust magnification. This scope is right around $1,000.00 depending on color.
Trijicon Ventus
Let me start by saying this product is not necessarily applicable to law enforcement, but it is too amazing to not include in the roundup. Additionally, it relies on technology police have been using for years, Doplar LIDAR.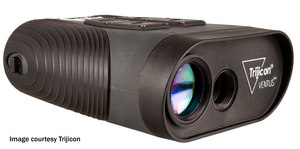 Trijicon came out with a ton of offerings this year but one of the most impressive is the Ventus. This product is revolutionary not because it allows you to adjust for windage like some of the aforementioned items – it tells you what the windage is. 
Using a number of lasers, it shoots downrange and picks up the movement of tiny particles in the air. It then measures the rate of movement over distance, as well as direction, and gives you windage for your shot. 
The distances this device is capable of handling are astounding for a unit the size of a pair of binoculars. It will measure wind up to 500 yards but it can range targets out to 5,000 yards. The Ventus can then communicate via Bluetooth to a Trijicon ballistics app to give you a shooting solution. 
While law enforcement rarely engages at such distances where this might be needed, I imagine having additional information to boost your accuracy would always be helpful. The Ventus will be available halfway through 2020 and the MSRP is not yet released, though speculation holds it in the $10,000.00 realm.

Request product info from top Police Thermal Imaging companies
Thank You!