FLIR's H-Series Thermal Imagers offer high resolution for low price
New handheld cameras pack plenty of features
---
By Scott M. Bruner
Police1 Product Editor
FLIR Systems, a Portland, Ore.-based company, released a series of handheld thermal imagers last year that have turned out to be a very popular product in the camera market. The H-Series offers 320x240 resolution beginning at $4,999, which FLIR believes is the reason the cameras have surpassed expectations in the law enforcement market.
"The biggest difference is the resolution it offers. Most law enforcement officers have typically had to use cameras in this price range that only offered 160x120 resolution," Jim McGowan, vice president of FLIR's Personal Vision Systems, said. "The H-Series offers four times the amount of resolution…That combination of features and price hasn't been seen before."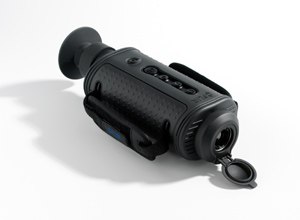 The H-Series comes with an impressive list of features, including onboard video storage and wireless streaming video transmission. The cameras offer six hours of operation on a single charge, and more than 120 hours when placed in standby. A number of lens options, and accessories, for the cameras are also available. One lens extender can capture images from over 2,800 feet away.
Another key feature of the H-Series is its low profile. The eyepiece is fully shuttered and there is no light reflecting back to the user from the camera. This feature is an important aspect for officer safety concerns.
"You can observe and remain totally covert," McGowan said.
There are two models of cameras in the H-Series. The base model is the Patrol unit, available for $4,999. The Command model offers additional features, including still image capture, MPEG video storage, and a real-time clock. The Command model retails for $5,999.
According to FLIR, the camera was developed particularly for, and in conjunction with, the law enforcement community. They were released last year, but supply is only beginning to match the demand. Many of the features including in the H-Series cameras were based on applications police requested.
"A lot of thought went into the design of the H-Series for law enforcement, a market we've been serving for years," McGowan said. "It can be used for border security, search and rescue, and forensics investigations…the expansive law enforcement mission."
FLIR Systems, Inc. has been a leader in providing infrared cameras, night vision, and thermal imaging systems to science, industry, law enforcement and the military for over 30 years. You can find more information about their H-Series of thermal imagers at http://www.flir.com/cvs/media/hseries/.

Request product info from top Police Thermal Imaging companies
Thank You!