Pulsar thermal imaging for patrol operations
These devices are not just for SWAT and detectives
---
Sponsored by Pulsar
By Tim Dees for Police1 BrandFocus
Thermal imaging devices are well-known in law enforcement, but are usually associated with special operations like tactical teams and surveillance operations. In fact, thermal is both useful and cost-effective, making the technology incredibly valuable for uniformed patrol.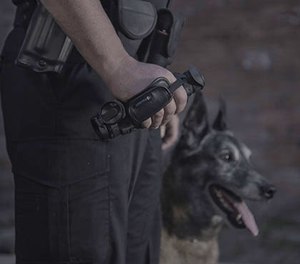 Distinct technologies
There are two areas of technology for seeing in the dark without using illumination. Night vision scopes amplify existing light. They're no good in total darkness unless paired with infrared, as there's no light to amplify, but most environments have some ambient light to work with. Night vision devices often include an on-board infrared illuminator (IR) to enhance the field of view. Thermal imagers see differences in temperature that are invisible to human eyes. They work perfectly in the absence of visible light.
Thermal imagers have some advantages over night vision. Let's say you have a common scenario where you're chasing a fleeing vehicle, and the driver tosses something out of the car – usually narcotics. A night vision scope is of limited use here, as the tossed item is going to look like every other rock, soda can and burger wrapper on the side of the road. However, the discarded item is likely to be a different temperature than the pavement, so it will stand out in a thermal imager.
Patrol applications
Wide-area searches are another situation where a thermal imager is helpful. Searching for someone at night, whether it be a suspect or a lost child, is difficult, because you can walk within inches of the person you're seeking and not see them. With a thermal imager, any warm body will stand out from its surroundings. You can see the shape of the person from up to 2,000 yards.
The devices are also useful for finding occupied vehicles, or those with warm engines. A car that eludes an officer might be hidden to the naked eye in a crowded parking lot, but when viewed through a thermal imager, the hot engine stands out from the background and the cars around it.
Many thermal imagers from Pulsar include a video recording capability. As with body-worn cameras, video evidence is not only compelling, it's almost expected in modern courtrooms. When you can document your search for evidence or a suspect with the same visuals you saw at the time of the recovery, your case becomes stronger and your testimony perceived as more reliable.
Real-world evaluation
Pulsar makes samples of their thermal imagers available to law enforcement agencies for testing and evaluation. During one such trial in Lee County, Florida, the county was hit by Hurricane Irma. A patrol sergeant responded to a report of some men trying to break into a residence. When the sergeant arrived in the area, he took a look with the Quantum XQ30V 2.5-10x23 Thermal Monocular he was carrying, and saw a man pointing a handgun at him. The sergeant put away the imager, drew his sidearm and ordered the man to drop his weapon. It turned out the armed man was another police officer, off-duty, who was trying to locate someone who had tried to break into his home. Having the thermal imager prevented a tragedy that would have devastated all parties.
One sheriff's office in Texas used another Pulsar device, the Helion XP50 monocular, to locate two suspects who had fled from the scene of a traffic fatality. The suspects were trying to elude police in a wooded area where it would have been difficult for anyone to find them by conventional methods. The HP50 has a detection range of 2,000 yards, as well as a high-res sensor and organic LED display. A sheriff's lieutenant, flying overhead in an agency helicopter, used his monocular to direct deputies to the precise location of the suspects. He also made a video record of the incident with the internal recorder, which will be used in the pending case against the suspects.
The XP50 has been evaluated by the National Tactical Officers Association, which gave it top ratings in eight categories, including design, performance, and ease of use. The device has zoom magnification, a rangefinder, is waterproof and will run for eight hours on a rechargeable battery. It can be configured for remote operation, or for an external display, connected by integrated Wi-Fi. 
About the author
Tim Dees is a retired police officer and the former editor of two major law enforcement websites who writes and consults on technology applications in criminal justice. He can be reached at tim@timdees.com.

Request information from Pulsar
Thank You!