The big picture: SOLTEC's NEC Avio G120 Camera
New entry into thermal imager market offers panoramic scan
---
By Scott M. Bruner
Police1 Product Editor
The SOLTEC Corporation has entered the emergency response field with an intriguing new thermal imaging camera, the NEC Avio G120. The camera is the first thermal imager to offer a full panoramic scan.
The Panoramic Scan Feature of the G120 allows the user to scan a large area or object in the horizontal or vertical plane while the camera sequentially stores full radiometric infrared thermal images. The software, included with the camera, is able to combine these separate images to create one comprehensive image of the object, including structures such as a building, for thermal analysis.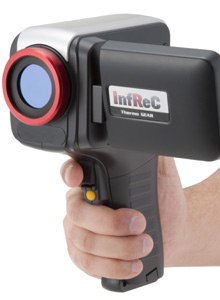 "The G120 can create very large images in the vertical or horizontal direction while getting the thermal detail you need," Damon Derrick, sales engineer with SOLTEC, said. "It's the functionality of this camera which makes it unique."
In addition to the panoramic scan feature, the G120 also comes equipped with a vibration alarm. After a certain temperature is reached, the camera will vibrate, alerting the user of a potential danger.
"By the G120 incorporating features such as a vibration alarm police officers can be alerted of body temperatures over a preset threshold without giving away their position. The 4x zoom capability allows users to observe objects and beings from far distances with greater detail and contrast than visible light cameras and night vision cameras," Derrick said.
The camera also features an impressive list of standard features. It includes a 3.5 inch, multi-angle LCD screen which can display up to nine thumbnail frames simultaneously. It is able to record thermal video at 10 frames per second. The camera can capture high resolution images of 0.08°C on a 320 x 240 pixel format with the standard 14mm lens. The camera is rated to operate between -40°C to 500°C Temperature range.
The G120's 4x magnification comes with a 5-point multi temperature display. It is able to combine visual and thermal images. The camera features SD card onboard storage as well as a USB and video monitor outputs. The G120 is powered by a lithium ion battery which can provide four hours of operation.
SOLTEC, with 40 plus years of test and measurement experience, offers services in data acquisition and recording applications with ISO certified sensors, signal conditioning, data recorders and system integration. The G120 is one of their first forays into the emergency responder market. You can find them online at www.solteccorp.com.


Request product info from top Police Thermal Imaging companies
Thank You!