U.S. to increase Predator flights over Canadian border
---
U.S. Customs and Border Protection says it will temporarily deploy a Predator B unmanned air vehicle (UAV) to patrol the border along Lake Ontario and the St. Lawrence Seaway, "where cigarette and drug smuggling have been a continuing problem," according to reports.
The aircraft, manufactured by San Diego-based General Atomics Aeronautical Systems, has been a mainstay of the CIA and U.S. Air Force in the skies over Afghanistan and Iraq for nearly a decade, and in recent years has also been added to the inventories of the U.S. Navy and U.S. Army. In Autumn of 2005, Predator was selected by the Department of Homeland Security as the platform from which border patrol and drug interdiction surveillance above the borders of the United States would be conducted.
Predator had been deployed to Grand Forks Air Force Base, N.D. in early February 2009 — word of its planned use along the northern border first surfaced several months prior.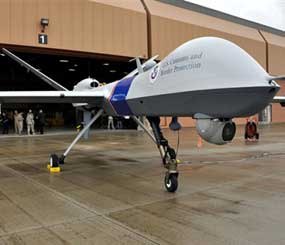 The notion of UAVs patrolling American skies is directly referenced in the 9/11 Commission Report, which recommended the use of a wide array of high-tech equipment such as video cameras and ground sensors that detect heat, motion, and metal, to prevent illegal crossings into the United States.
While the focus of the news articles about this new deployment has been about drugs and cigarettes — and there have been some massive drug and contraband busts up in the Northern Tier in recent years — the 9/11 Commission Report was most concerned that the Canadian border could become an entry point for Jihadists and other extremists. A CPB report to Congress last year echoed that apprehension, stating that the agency had "significant concern" that extremists could slip across the northern border.
The remote-controlled aircraft has a 64-foot wingspan, can stay aloft for up to 18 hours at a typical operational altitude of 19,000 feet, is packed with high-tech surveillance equipment including synthetic-aperture radar and electro-optical/infrared sensors, and can capture high-definition and infrared video of anything within a 25-mile radius of its position. Predator reportedly will be based at the U.S. Army's Fort Drum base, and will fly out of Wheeler-Sack Air Field, located about an hour away from Syracuse, N.Y.
For several years, U.S. Customs and Border Protection has used the Predator aircraft with great success in operations conducted on the Mexican border and in the Caribbean. According to our sources, CPB possesses seven Predators, each of which costs an estimated $10.5 million. With three aircraft reportedly based in Arizona for patrol over the U.S.-Mexican border, at least one known to be on station at the Canadian border, two others in California being converted for use in coastal marine surveillance, there is at least one aircraft unaccounted for — at least according to the open-source intelligence to which Police1 has access (including the Associated Press, the Canadian Press, and several aviation-trade publications which have been reporting on this issue).
Who wants to bet that it's flying the Bosh-Wash corridor? Post your comments below — we want to hear from you.

Request product info from top Police Thermal Imaging companies
Thank You!