Why UAVs and thermal imaging are an effective combination
Unmanned Aerial Vehicles (aka drones) provide a reliable, rugged and economical aerial surveillance that can fly in conditions too dangerous for helicopter pilots
---
Sponsored by Multicopter Warehouse
By Police1 BrandFocus Staff
The advent of remotely-controlled payload-carrying UAVs (aka drones) has revolutionized the world of aerial surveillance. HD-quality video cameras can now be sent into all kinds of weather, environmental and physical conditions too dangerous (or impossible) for manned helicopters to fly into. These include pitch-black nights, storms and high winds, and other situations where vision clarity is impaired.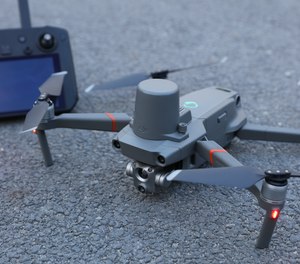 Of course, to fly in such conditions still requires the ability to navigate, which is where thermal imaging cameras come into the picture. Thermal cameras are able to 'see' heat sources and their surroundings by detecting levels of infrared energy emissions. This functionality allows ground-based UAV operators to fly drones safely in poor-to-nil visible light conditions.
Just as importantly, thermal imaging cameras allow remotely-controlled drones to detect heat-emitting lifeforms and objects around them. When fitted onto rugged, long-flying professional-grade UAVs like the DJI Mavic 2 Enterprise Dual and the new Matrice 300 RTK – both sold by Multicopter Warehouse – these cameras can be used in challenging commercial and first responder applications that are too demanding for consumer drones to handle.
True multi-mission capability
When a UAV is equipped with a thermal imaging camera, it attains true multi-mission capability. Assuming that the drone is rugged and has range like the DJI Mavic 2 Enterprise Dual and the new Matrice 300 RTK, this UAV can now be used to detect heat-emitting targets in a wide range of missions.
Take law enforcement: A UAV with an onboard thermal imaging camera can be used to locate fleeing suspects in all kinds of light conditions, especially at night in unlit areas where they 'vanish' to human eyes. The same UAV can provide real-time overviews of active incidents in dark and/or smoke-obscured conditions.
For fire/EMS, a UAV with a thermal imaging camera can find 'hot spots' in burning buildings and locating victims stranded inside from the safety of the ground. This intelligence allows fire scene commanders to deploy their personnel with accuracy and safety. More people can be saved and more fires doused sooner, at reduced risk to all.
These same capabilities make such UAVs invaluable to Search and Rescue crews. Drones with thermal imaging cameras can help ground-based crews efficiently survey the areas being searched for signs of human life, even in the darkest of nights. When promising heat-emitting targets are found, the data gathered via these UAVs can direct manned helicopters to those locations fast, without the helicopters wasting time or fuel conducting their own aerial searches.
The right UAVs for the job
There are lots of UAVs on the market today that can be flown with thermal imaging cameras. Here's why the DJI Mavic 2 Enterprise Dual and Matrice 300 RTK are among the best for the job.
The foldable Mavic 2 Enterprise Dual is compact enough to be person-carried to almost any location. But don't let this UAV's small footprint fool you: The Mavic 2 Enterprise Dual is purpose-built for demanding missions, while its built-in FLIR Lepton thermal imaging microcamera can see in the darkest of lighting conditions. To further aid the viewer's surveillance capabilities, this UAV comes with FLIR MSX (multispectral dynamic imaging). It overlays high-fidelity visible light details onto the thermal imagery in real- time to maximize the amount of useful viewable data.
The larger, heavy-duty Matrice 300 RTK is built for truly tough, long-running missions, with the ability to sustain up to 55 minutes of flying time on a single charge. (The battery is hot-swappable.) With a flight ceiling just under 23,000', a 9.3-mile transmission range, and many 'Advanced Intelligence' onboard functions such as 'Smart Tracking' that can spot and then follow moving objects on its own, the Matrice 300 RTK is an ideal platform for thermal imaging-based surveillance. It can be flown with a DJI Zenmuse H20 camera that combines thermal and visible light imaging with a Laser RangeFinder (maximum range 0.74 miles).
The right UAV supplier
When buying these and other top-quality UAVs, it makes sense to choose an established dealer like Multicopter Warehouse, which has been in business since 2014. 
Awarded the status of 'Gold Tier Enterprise Dealer' by DJI, MultiCopter Warehouse offers both online and bricks-and-mortar sales/service (the latter through its store at the Denver Tech Center in Colorado). MultiCopter Warehouse is also one of only three DJI-Recommended Service Centers in the United States. It can dispatch DJI-trained and certified technicians to get its customers flying in no time.