PRESS RELEASE
Experience thermal with the Accolade LRF
---
MANSFIELD, Texas — Turn your hunt into a high-tech adventure with the Pulsar Accolade laser rangefinding Thermal Binoculars with 384 and 640 core resolution and a detection range of up to 2,000 yards. Accolade thermal binoculars feature a dual eyepiece helping to reduce eye fatigue during long scanning and surveying periods.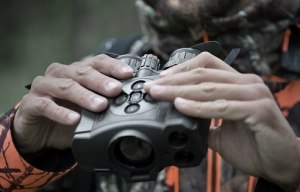 Pulsar offers two laser range finding models; XQ38 LRF and XP50 LRF. Accolade XQ38 LRF models boast a 384x288 sensor with a 50hz refresh rate detecting detailed thermal images from up to 1,475 yards. XP50 LRF models feature a 640x480 sensor with a 50hz refresh rate for thermal ranges up to 2,000 yards and a 640x480 frost-resistant AMOLED display.
Pulsar offers the highest level of image quality and eight custom color modes to provide flawless crisp clear images in virtually any condition. Record your adventure with the built-in video recorder and stream it through the Stream Vision App.
All Accolades are now shipping and available for order. If you are a dealer or wish to become a new authorized Pulsar dealer please contact sales@pulsarnv.com or if you are a media member and would like to test and evaluate please contact mediarelations@pulsarnv.com.
Visit Facebook, Twitter, Instagram and YouTube to learn more about Pulsar® products.
About Pulsar
Every Pulsar device is designed, manufactured and tested to ensure demanding professionals receive the most reliable, most advanced thermal and digital night vision performance the industry has to offer. The result of Pulsar's commitment to industry-leading excellence is consistent world-class quality, precision engineering, seamless device operation and cutting-edge proprietary software. Pulsar produces an array of advanced optical devices designed for law enforcement, security, home defense and hunting applications, including thermal imaging and digital night vision monoculars and riflescopes, night vision binoculars and goggles, rangefinders, IR flashlights and related accessories. To learn more about Pulsar, visit www.pulsarnv.com. For media requests related to Pulsar, please email mediarelations@pulsarnv.com or call 817-225-0310.

Request more info from Pulsar
Thank You!