PRESS RELEASE
FLIR announces identiFINDER R100 Personal Radiation Detector with integrated Bluetooth smart technology
---
Rugged Device Incorporates Wireless Connectivity for Monitoring and Tracking Threats in Real Time
WILSONVILLE, Ore. – FLIR Systems, Inc. (NASDAQ: FLIR) today announced the identiFINDER® R100 personal radiation detector, the latest addition to its industry-leading identiFINDER R-Series handheld radiation security solutions. The belt-worn R100 integrates networking capabilities to safeguard first responders, law enforcement, and military and security personnel by delivering immediate threat alarms and providing automatically-generated dose rate reports to offer situational awareness to central command.
The identiFINDER R100 is the industry's only IP67-certified and American National Standards Institute (ANSI) drop-test compliant personal radiation detector, featuring integrated Bluetooth® Smart wireless technology for sending reports. The device meets the 1.5m drop criteria required by ANSI N42.32, one of the key performance standards for alarming PRDs in Homeland Security. The IP67 rating certifies the R100 is protected against dust and immersion in water up to 1m to support everyday use in harsh environments. Using Bluetooth Smart technology, the R100 connects to companion mobile apps, which record and send real-time dose rates and geotag information up the chain of command.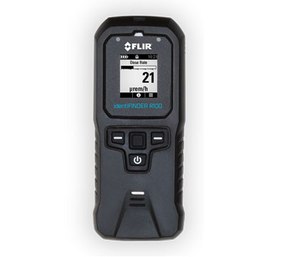 The R100 joins the industry-leading identiFINDER product family in offering a complete range of radiation security solutions, from threat detection to threat identification. All identiFINDER models, including the identiFINDER R100, share the same field-proven, intuitive user interface, which enables coordinated emergency response between law enforcement, firefighters, and HAZMAT teams using any identiFINDER product.
"As the only ANSI drop-test -compliant and IP67-certified personal radiation detector, the R100 is the industry's most rugged personal radiation detector for first responders," said Dennis Barket, Jr., Vice President and General Manager of FLIR Detection. "When deployed across teams, the R100 provides early warning of radiological threats to the frontline, while the integrated networking features eliminate blind spots for central command."
FLIR will showcase the identiFINDER R100 for the first time at the International Association of Chiefs of Police (IACP) Show on October 16 – 18 in San Diego, CA, booth #5251. The identiFINDER R100 will begin shipping globally in January 2017 with pricing starting at $1,195. To learn more about the identiFINDER R100, visit: http://www.flir.com/r100.
About FLIR Systems
FLIR Systems, Inc. is a world leader in the design, manufacture, and marketing of sensor systems that enhance perception and awareness. FLIR's advanced systems and components are used for a wide variety of thermal imaging, situational awareness, and security applications, including airborne and ground-based surveillance, condition monitoring, navigation, recreation, research and development, manufacturing process control, search and rescue, drug interdiction, transportation safety, border and maritime patrol, environmental monitoring, and chemical, biological, radiological, nuclear, and explosives (CBRNE) threat detection. For more information, visit FLIR's web site at www.FLIR.com.

Request more info from FLIR Systems, Inc.
Thank You!