PRESS RELEASE
Night Vision Depot BNVD-SG Dual Tube Binocular
---
Night Vision Depot (NVD) can upgrade 2 or more of your PVS-14s (even broken ones!) into a state of the art BNVD-SG Dual Tube Binocular. After contacting one of their repair techs, LE Officers can send in several of their current (or even broken) PVS-14 systems. Once they are received our repair team can utilize these parts to be converted into BNVD-SGs, dual tube binoculars. This is a huge a cost effective investment for a system that will greatly enhance your departments current capabilities but for a fraction of the price.
About Night Vision Depot
Night Vision Depot is the source for the highest quality US manufactured night vision binoculars, monoculars, weapon sights, night vision parts and service. We are experts in night vision technologies with over 60 years combined experience in the industry. Our highly skilled staff can repair and service almost any US manufactured night vision system ever purchased by the US DOD. We also stock spare parts for the repair of those systems currently fielded by the DOD and those which have been removed from active military service.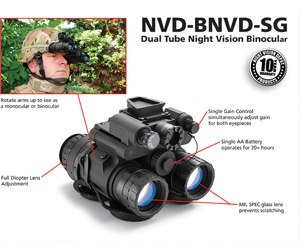 Request more info from Night Vision Devices
Thank You!