PRESS RELEASE
Night Vision Products are Now Available for Purchase with Gen 3 White Phosphor Image Intensifiers
---
Night Vision Depot (NVD) is pleased to announce that our Night Vision Products are now available for purchase with Gen 3 White Phosphor Image Intensifiers manufactured by Exelis/ITT. Traditional image intensifier tubes use a P-43 phosphor screen output, resulting in the yellow-green image that has become the signature view through most Gen 3 night vision Systems. White Phosphor tubes use a P-45 phosphor screen, which yields an alternate coloration closer to black and white imagery. This change in color has been reported to enhance overall object recognition while providing contrast sensitivity equivalent to or better than traditional green phosphor image tubes.
These White Phosphor tubes are available for system upgrades and can be Hand-Select for higher performance an extra fee. As always, NVD systems come with a TEN year warranty.
Check out the NVD products that are currently available with White Phosphor Image Intensifiers.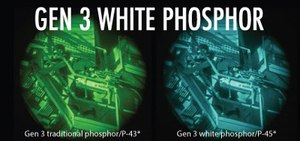 About Night Vision Depot
Night Vision Depot is the source for the highest quality US manufactured night vision binoculars, monoculars, weapon sights, night vision parts and service. We are experts in night vision technologies with over 60 years combined experience in the industry. Our highly skilled staff can repair and service almost any US manufactured night vision system ever purchased by the US DOD. We also stock spare parts for the repair of those systems currently fielded by the DOD and those which have been removed from active military service.

Request more info from Night Vision Devices
Thank You!