PRESS RELEASE
Pulsar introduces pocket-sized Axion Monocular
---
MANSFIELD, TEXAS — Pulsar delivers big with the new pocket-sized Axion Thermal Monocular. Axions detect targets with heat signatures, making it easier to detects targets up to 1800 yards away anytime, day or night. Pulsar's new monocular fits in the palm of your hand and is perfect for hunting, personal security, first responders and livestock management.
Pulsar offers three versions of the Axion Thermal Monocular — Axion XM30 (PL77421), Axion XM38 (PL77422) and Axion Key XM30 (PL77425).
The compact Axion XM30 and XM38 both boast a smaller 12-micron pixel pitch HD AMOLEDdisplay with 320x240 core and a 1024x768 display. The Axion Key XM30 has a LCOS 960x720 display with a 320x240 12-micron core for crisp and clear pictures, videos and menu options. The eight color modes give you the option to go from traditional white-hot to the color of your choice in just a few clicks.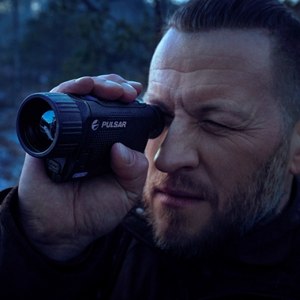 Axions feature IPX7 waterproof rated (submersible in 3 feet of water for up to 30 minutes) magnesium-alloy body that delivers true reliability in extreme weather conditions. A Mini B-Pack system powers the monocular with a rechargeable lithium-ion, giving you up to 4 hours of battery life per charge. Stream onboard video recordings through the Stream Vision App with 16gb built-in memory (not available on Axion Key).
If you are a dealer and to speak to someone about pre-orders or becoming a new authorized Pulsar dealer please contact sales@pulsarnv.com or if you are a media member and would like to test and evaluate please contact mediarelations@pulsarnv.com.
Visit Facebook, Twitter, Instagram and YouTube to learn more about Pulsar® products.
About Pulsar
Every Pulsar device is designed, manufactured and tested to ensure demanding professionals receive the most reliable, most advanced thermal and digital night vision performance the industry has to offer. The result of Pulsar's commitment to industry-leading excellence is consistent world-class quality, precision engineering, seamless device operation and cutting-edge proprietary software. Pulsar produces an array of advanced optical devices designed for law enforcement, security, home defense and hunting applications, including thermal imaging and digital night vision monoculars and riflescopes, night vision binoculars and goggles, rangefinders, IR flashlights and related accessories. To learn more about Pulsar, visit www.pulsarnv.com. For media requests related to Pulsar, please email mediarelations@pulsarnv.com or call 817-225-0310.

Request more info from Pulsar
Thank You!