PRESS RELEASE
Pulsar pulls the trigger with Pigman
---
MANSFIELD, Texas — Pulsar is proud to announce a new partnership with Pigman. Groesbeck, Texas native and show host, Brian "Pigman" Quaca, host of Pigman: The Series on Sportsman Channel, assumes his role on Pulsar's elite pro staff, effective immediately, and will play an active role in driving awareness of Pulsar thermal imaging and night vision riflescopes, monoculars and binoculars.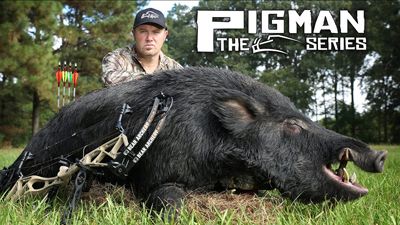 In addition to Pigman: The Series, Quaca produces aggressive, engaging, high-traffic content for social video platforms and delivers millions of impressions to fans and followers in numerous social media channels. Pigman: The Series has amassed numerous outdoor television awards since the show's first season aired in 2010. "We've been at it for over 8 years, all over the country. We've changed the landscape of outdoor television and fought our way to the top, like Pulsar has," stated Pigman. "Now, it's time to shake things up again and we're doing it with top-shelf thermal and night vision."
"Pigman is right here in Texas and is passionate about the same pastime as many of us, hog hunting," said Sellmark president, James Sellers. "He's driven to be the best in everything he does and it shows in both his work and his reach. We're glad he's expanding into thermal and night vision and believe his efforts will bring awareness to the many outdoor applications suited for our technology."
About Pigman: The Series
Set deep in the heart of Texas, Pigman: The Series takes viewers on a wild ride with its ever unpredictable and crazy Host/Executive Producer, Brian "Pigman" Quaca, at the helm.  Now in its ninth season, Pigman: The Series has earned rank as one of Sportsman Channel's top-rated shows by entertaining the masses with a plethora of hunts and locations; of course, Pigman's pursuit of pigs are always his love and passion, but don't think he isn't capable of sharing the love to any species who dares to step out in front of his sights. Pigman: The Series is Executive Produced by four-time Sportsman Channel Host of the Year, Brian "Pigman" Quaca, in association with Los Angeles-based Luce Change Productions and Duality Filmworks. Learn more at www.PigmanTV.com.
About Pulsar
Every Pulsar device is designed, manufactured and tested to ensure demanding professionals receive the most reliable, most advanced thermal and digital night vision performance the industry has to offer. The result of Pulsar's commitment to industry-leading excellence is consistent world-class quality, precision engineering, seamless device operation and cutting-edge proprietary software. Pulsar produces an array of advanced optical devices designed for law enforcement, security, home defense and hunting applications, including thermal imaging and digital night vision monoculars and riflescopes, night vision binoculars and goggles, rangefinders, IR flashlights and related accessories. To learn more about Pulsar, visit www.pulsarnv.com. For media requests related to Pulsar, please email mediarelations@pularnv.com or call 817-225-0310.

Request more info from Pulsar
Thank You!