PRESS RELEASE
Pulsar set to attend IACP 2019
---
MANSFIELD, Texas — Pulsar is returning to the 2019 International Association of Chiefs of Police (IACP), scheduled October 26-29 at the McCormick Place West Convention Center in Chicago, Illinois.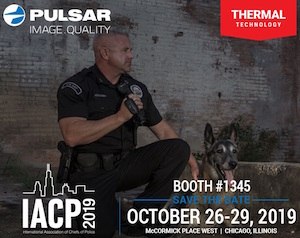 Attendees are invited to stop by Pulsar's booth #1345 to learn more about the brand's innovative thermal imaging, digital night vision and other high-tech optics and accessories to see firsthand just how well Pulsar has its pulse on the needs and concerns of law enforcement agencies worldwide.
Pulsar will exhibit its new products, including the Thermion and Trail LRF thermal scopes, LExion and Axion thermal monoculars and the Accolade thermal binoculars. Pulsar thermal imaging is designed to aid law enforcement and first responders in search and rescue missions, surveillance and security by giving professional the assistance they need when it matters most.
About IACP
The International Association of Chiefs of Police (IACP) is the world's largest and most influential professional association for police leaders. With more than 30,000 members in 150 countries, the IACP is a recognized leader in global policing, committed to advancing safer communities through thoughtful, progressive police leadership. Since 1893, the association has been serving communities worldwide by speaking out on behalf of law enforcement an advancing leadership and professionalism in policing worldwide.
If you are a dealer and to speak to someone about pre-orders or becoming a new authorized Pulsar dealer please contact sales@pulsarnv.com or if you are a media member and would like to test and evaluate please contact mediarelations@pulsarnv.com.
Visit Facebook, Twitter, Instagram and YouTube to learn more about Pulsar® products.
About Pulsar
Every Pulsar device is designed, manufactured and tested to ensure demanding professionals receive the most reliable, most advanced thermal and digital night vision performance the industry has to offer. The result of Pulsar's commitment to industry-leading excellence is consistent world-class quality, precision engineering, seamless device operation and cutting-edge proprietary software. Pulsar produces an array of advanced optical devices designed for law enforcement, security, home defense and hunting applications, including thermal imaging and digital night vision monoculars and riflescopes, night vision binoculars and goggles, rangefinders, IR flashlights and related accessories. To learn more about Pulsar, visit www.pulsarnv.com. For media requests related to Pulsar, please email mediarelations@pulsarnv.com or call 817-225-0310.

Request more info from Pulsar
Thank You!