PRESS RELEASE
Pulsar thermal and digital night vision on full display at NRA 2019
---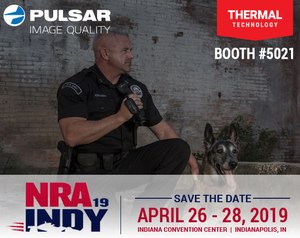 MANSFIELD, TEXAS — Visit with Pulsar (booth #5021) at this year's NRA Annual Meetings and Exhibits to learn more about the new world-class thermal and digital night vision technology like the Thermion thermal riflescope, Digisight Ultra N455 digital night vision riflescope and the pocket sized Axion thermal monocular.
The 148th NRA Annual Meetings and Exhibits will be in Indianapolis, IN and is scheduled for April 26-28 at the Indiana Convention Center. Anticipate getting hands on experience with Pulsar's top-of-the-line thermal and digital night vision optics, attachments and accessories.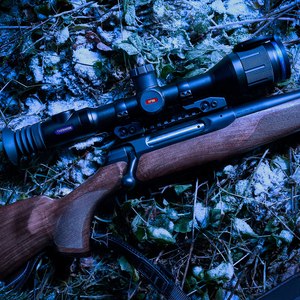 Dealers planning to attend the show who would like to schedule a meeting, please contact Pulsar at sales@sellmark.net or at 817-225-0310 ext. 298. Media members planning to attend can set an appointment by contacting mediarelations@sellmark.net.
Free to all NRA members and their families (spouse and children under 18 years old), the NRA Annual Meetings and Exhibits will be attended by over 80,000 firearm enthusiasts and feature 800+ exhibitors. Not only will the industry's latest and greatest be on display, but there will also be a jam-packed schedule of seminars, workshops, special events and more!
Visit Facebook, Twitter, Instagram and YouTube to learn more about Pulsar® products.
About Pulsar
Every Pulsar device is designed, manufactured and tested to ensure demanding professionals receive the most reliable, most advanced thermal and digital night vision performance the industry has to offer. The result of Pulsar's commitment to industry-leading excellence is consistent world-class quality, precision engineering, seamless device operation and cutting-edge proprietary software. Pulsar produces an array of advanced optical devices designed for law enforcement, security, home defense and hunting applications, including thermal imaging and digital night vision monoculars and riflescopes, night vision binoculars and goggles, rangefinders, IR flashlights and related accessories. To learn more about Pulsar, visit www.pulsarnv.com. For media requests related to Pulsar, please email mediarelations@pulsarnv.com or call 817-225-0310.

Request more info from Pulsar
Thank You!