PRESS RELEASE
Pulsar's new firmware update greatly increases image processing
---
MANSFIELD, Texas — Pulsar continues to improve its products by upgrading their firmware of image processing algorithms. After extensive research and testing, Pulsar has successfully implemented the support of the gain mode, increasing the ability to detect, recognize and identify objects in conditions of low-temperature differences. Pulsar has listened to its loyal customers; the new algorithms are implemented in its current line with the release of the latest software update.
Firmware updates are available for the Trail XQ/XP riflescopes, Helion XQ/XP monoculars and Accolade XQ/XP binoculars. The changes will be visible in the following observation modes:
Identification: Optimally depicts details when it is necessary to recognize or identify the objects and works well under difficult conditions: rain and fog (possibility of more image noise, which is normal for this mode.)
Forest: Optimal image in conditions of dense vegetation and low-temperature differences — relief, vegetation and hot objects are clearly more visible.
Rocks: Optimal display of warmer signatures in the presence of many objects with different temperatures (sunny day, mountains or city relief) in the field of view.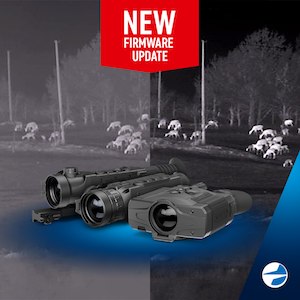 Interface changes will appear in order to facilitate faster switching between observation modes. A short press of the "Up" button will be used to quickly switch between modes and a long press will change color pallets (in Helion and Accolade.)
To get the software update downloaded to your device, use your smartphone or tablet to install the free "Stream Vision" application from Google Play or App Store.
Visit pulsarnv.com/streamvision for a step-by-step guide on downloading the firmware. To check your firmware, visit https://www.pulsar-nv.com/glo/support/check-your-firmware/269.
Visit Facebook, Twitter, Instagram and YouTube to learn more about Pulsar® products.
About Pulsar
Every Pulsar device is designed, manufactured and tested to ensure demanding professionals receive the most reliable, most advanced thermal and digital night vision performance the industry has to offer. The result of Pulsar's commitment to industry-leading excellence is consistent world-class quality, precision engineering, seamless device operation and cutting-edge proprietary software. Pulsar produces an array of advanced optical devices designed for law enforcement, security, home defense and hunting applications, including thermal imaging and digital night vision monoculars and riflescopes, night vision binoculars and goggles, rangefinders, IR flashlights and related accessories. To learn more about Pulsar, visit www.pulsarnv.com. For media requests related to Pulsar, please email mediarelations@pulsarnv.com or call 817-225-0310.

Request more info from Pulsar
Thank You!