PRESS RELEASE
Sellmark acquires Kopfjager
---
MANSFIELD, TEXAS — Sellmark is proud to announce the addition of Kopfjager to the corporation's family of popular brands. Launched in 2012 with the design of an innovative rifle rest, the popularity of Kopfjager products has skyrocketed.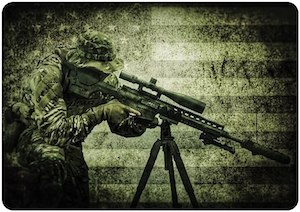 Kopfjager began humbly with a rifle rest designed, tested and redesigned by two SWAT officers, Garret Hellinger and Matt Banes. Given their LE experience, the two officers were looking for a way to minimize human factors, especially stress-induced, detrimental to precise shot placement. They also wanted to ensure their shooting rest solution was lightweight and mobile, yet rock-solid with fluid horizontal and vertical tracking.
Beginning in 2013, trials, errors and re-designs led to the introduction of the Reaper Rest, a tripod-mountable system that changed the way law enforcement and military operators were able to engage targets with precision accuracy. Shortly after the Reaper Rest was developed, Gabe Snyder joined Matt and Garret as a partner and began managing product design and development. Gabe's efforts enhanced design, development and patentable innovation efforts tremendously and, in 2015, Kopfjager unveiled the Reaper Grip. 
With the immediate rise of Kopfjager's popularity among special-operations law enforcement officers and military personnel, scores of hunters and competitive shooters also took notice. The Reaper Grip took hunting and shooting by storm and positioned Kopfjager on the industry's leading edge.  
"Kopfjager's position as a leading rest manufacturer committed to enhancing shooting experiences for law enforcement and military personnel, as well as recreational hunters and shooters, made it a perfect fit in our family of brands," stated Sellmark Founder and CEO, James Sellers.
Sellmark Corporation's Executive Vice President of Sales, Jeff Murray added, "With Kopfjager already recognized as the industry leader in its category, we can dedicate resources to both product innovation and continued growth. The opportunities are unlimited. This is an exciting time for Kopfjager and Sellmark Corporation as a whole."   
Effective immediately, Sellmark Corporation has assumed Kopfjager's day-to-day operations. Kopfjager now joins Sellmark Corporation's other brands headquartered in Mansfield, Texas.  
About Sellmark
Sellmark is dedicated to producing industry-leading outdoor lifestyle products and brands and continues to grow market share in more than 50 countries, including many quality retailers in every state across the U.S. To date, Sellmark products and brands have been sold in more than 5,000 locations around the world. Sellmark "Brands that Sell" include Sightmark, Pulsar, Firefield, and 12 Survivors. For information about any of these brands or products, please contact mediarelations@sellmark.net.

Request more info from Pulsar
Thank You!