Streamlight® Introduces Weapon-Mounted Tactical Light with Integrated Infrared Aiming Laser
---
html PUBLIC "-//W3C//DTD XHTML 1.0 Transitional//EN" "http://www.w3.org/TR/xhtml1/DTD/xhtml1-transitional.dtd"
Also Increases Light Output of TLR-VIR® Tactical Illuminator
Eagleville, PA - Streamlight, Inc., a leading provider of high-performance lighting and weapon light/laser sighting devices, introduced the TLR-2® IRW, a gun-mounted tactical light with an integrated infrared (IR) aiming laser. The company also announced an upgrade to its existing TLR-VIR® tactical illuminator long-gun light. Both lights are designed to give military, tactical, law enforcement and security personnel greater weapon lighting flexibility than ever before.
The ultra-bright TLR-2 IRW features a visible white C4® LED that produces 300 lumens, 12,000 candela and 2.5 hours of continuous run time.  The light's deep-dish parabolic reflector provides a concentrated beam of white light with optimum peripheral illumination.  The new tactical light also provides a Class 1 infrared laser with an "eye safe" power output of less than 0.8mW for night vision use, designed to enhance long-range targeting capability; it offers 45+ hours of run time. 
The company also has upgraded the brightness and intensity of its TLR-VIR model, designed for use with long guns to provide both high intensity white light and an infrared illuminator for night vision use. The enhanced tactical light now uses a C4 LED that produces 12,000 candela and 300 lumens of visible bright light.  For infrared lighting, the TLR-VIR features an 850 nanometer LED emitter with 1000mW/sr (min) radiant intensity, providing optimum illumination with night vision equipment, and a run time of 20 hours.
The TLR-VIR and the TLR-2 IRW securely fit all long guns with MIL_STD-1913 rails.  The TLR-2 IRW also mounts directly to handguns with Glock-style rails; it includes keys for Glock-style, Picatinny, Beretta 90two, S&W 99 and S&W TSW. 
Both models also are equipped with a tactical strobe that can be used to distract targets or conceal movements or positions.
"The TLR-2 IRW and the TLR-VIR use the latest LED and other technology innovations to make them indispensable tools for personnel who deploy or patrol with weapon lights," said Streamlight President and Chief Executive Officer Ray Sharrah. "The infrared aiming laser of the TLR-2 IRW model gives users the ability to focus more readily on a target in critical situations in darkness, while the white LED provides abundant white light.  And the TLR-VIR enables users to transition seamlessly from infrared mode to ultra-bright, visible white light and vice versa."
The lights feature a one-handed, snap-on and tighten interface that keeps hands away from gun muzzles when attaching or detaching the lights.  Each offers a three-position Mode Selector switch.  The TLR-VIR comes with a momentary/steady On-Off switch with a plug port for a momentary remote switch. The TLR-2 IRW features an ambidextrous momentary/steady On-Off switch. 
The TLR-2 IRW measures 3.39 inches in length and weighs 4.72 ounces. The TLR-VIR measures 3.82 inches and weighs 6.0 ounces. 
Both lights are manufactured with 6000 Series machined aircraft aluminum with a black anodized finished body and include a high-impact, chemically resistant housing for the laser/IR LED.  Each light uses two (2) 3 volt CR123A batteries.
Featuring an extensively live-fire tested construction, the TLR-2 IRW features an IPX4 rated design for water-resistant operation, while the TLR-VIR is rated IPX7, for waterproof operation to 1 meter for 30 minutes.  The lights have an operating temperature range of -40°F to +140° or +150°F, depending on the model.  The products come with Streamlight's Limited Lifetime Warranty. 
The MSRP for the TLR-2 IRW is $575.00, while the MSRP for the TLR-VIR is $692.58.
Based in Eagleville, PA, Streamlight, Inc. recently marked 40 years of making tough, durable, long-lasting flashlights designed to serve the specialized needs of professionals and consumers alike. Since 1973, the company has designed, manufactured and marketed high-performance flashlights, and today offers a broad array of lights, lanterns, weapon light/laser sighting devices and scene lighting solutions for professional law enforcement, military, firefighting, industrial, automotive, and outdoor applications. Streamlight is an ISO 9001:2008 certified company.  For additional information, please call 800-523-7488, visit www.streamlight.com or connect with us on www.facebook.com/streamlight; www.twitter.com/Streamlight; and www.youtube.com/streamlighttv.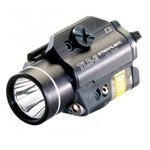 Request more info from Streamlight, Inc.
Thank You!