PRESS RELEASE
Tactical Electronics outfits your K9 with the best K9 camera available
---
K9-XR Camera System
No matter the environment, our K9-XR Camera System allows you to gather the intel you need.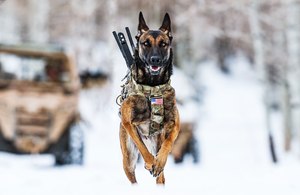 The back mounted K9-XR Camera transmits live video and audio back to the handler. Easily receive video/audio on the K9-XR Monitor up to 450 meters away from the canine. The camera mounts to the K9's vest using molle and Velcro attachments.
The camera arm is spring loaded, allowing canines to maneuver through tight spaces and obstacles. An internal DVR records audio and video directly to a micro SD card. K9 handlers can watch live video from the dog's perspective while simultaneously recording the video for evidence collection and training purposes. Download the specs here! 

Request more info from Tactical Electronics and Military Supply
Thank You!