Counterterrorism on the front lines
---
By Lt. Jim Glennon, Lombard, IL (ret.)
Sponsored by:
Related articles:
DOJ's new rules – AEDPA, 12 years hence
Urban Shield 2008: Plan, prepare, and train
Immediately following the September 11th attacks in 2001, a block of instruction was added to the Calibre Press: Street Survival Seminar by the venerable Lead Instructor Dave "J.D. Buck Savage" Smith. Terrorism: Battling the War in America's Heartland was designed by Dave to bring the reality of the War on Terrorism to those who he believed would eventually be on the front lines of that war: America's law enforcement community.
As one of the instructors, let me speak out of school here for just a moment and reveal a conflict within our Cadre. The five Seminar instructors regularly argue (in a healthy way of course) about the Terrorism block:
• What should be included?
• What should be emphasized?
• What should be eliminated?
• How often should we update the material?
The most important question that remains to this day and was there at the birth of the block in 2001 also happens to define its Mission: What is the block's purpose?
I've heard the argument from many outside of Calibre Press. Why talk to a group of law enforcement officers about global terrorism when those groups consist roughly of: 60% local cops, 20% County Sheriffs, 10% State Peace Officers, and only 10% Federal law enforcement professionals? Isn't battling Terrorists a Federal responsibility? Local, State, and County cops can't fight terrorists because they don't run into any!
Or do they?
Whenever I'm instructing the block I begin by telling the group that I hate teaching it. This drives my buddy and mentor Dave Smith nearly to insanity. At least it did until he began to understand that on rare occasions I have a method to my madness.
I'm a local cop – I have been for more than 28 years. Quite frankly, as far as I know, I've never encountered a terrorist. In my mind (at least I used to believe) I'd certainly never be in the position to arrest one. And that is the attitude I have found in the minds of perhaps up to 50% of the 10,000 + officers who attend our Seminars each year.
"It's a federal problem and their responsibility. I work in (name the geographical area) terrorists won't come here."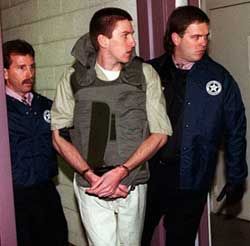 Oklahoma City bombing defendant Timothy McVeigh is escorted by two U.S. Marshalls Wednesday, Jan. 31, 1996, to a hearing in Federal Court in downtown Oklahoma City. McVeigh and co-defendant Terry Nichols are charged in the April 19th, 1995 terrorist attack on the Alfred P. Murrah Federal Building that left 169 people dead. (AP Photo)

This is a naiveté that we absolutely can't afford to have, or allow to take hold in the minds of those working in our profession. Make no mistake, not only are the terrorists coming – they are here!

And they want, and need, to kill those on the domestic front lines – law enforcement professionals – you!

I have the opportunity to meet and talk with professionals who work on terrorism issues full-time. Quite frankly listening to them scares the hell out of me. Many of them have had first-hand encounters with terrorists and understand the deviant mind-set that drives these evil people. They believe, almost unanimously, that terrorism is the single biggest threat to our country since its inception over 230 years ago.

Is this an alarmist statement? I certainly hope it does alarm, for there is no compromise with those who seek to destroy our way of life and us as human beings. True terrorists, in particular those who subscribe to the ideology embraced by those who perpetrated the 9/11 attacks, will unflinchingly, kill you, your children, your friends, your way of life, if they get the opportunity. And they are among us and they come in all forms.

Are there radical Islamist terrorists on our soil? Yes. But terrorists are not limited to a specific ideology, religion, or political/social belief. Terrorists come in all shapes, colors, sizes, and genders. And many of them are home grown. Let's examine a few, how they were captured and by whom.

#1. Timothy McVeigh The Oklahoma City bombing was at the time, the worst terrorist attack on American soil. This idealistic degenerate murdered 168 men, women, and children. He was the most wanted person in the United States immediately after the attack. And who caught him? Was it an elite group of terrorist experts? No, it was Oklahoma Highway Patrol Trooper Charlie Hangar. How did he catch McVeigh? He was doing his job. My favorite quote (perhaps of all time) concerning law enforcement is a statement Charlie made concerning his supremely large capture: "Another trooper once told me that if you take care of the small stuff, the big things will come to you. That turned out to be prophetic." What caught the attention of Trooper Hanger? A missing license tag. Charlie spotted it, made the stop, read the behavioral signs that heightened his senses and he made the bust.

#2. Eric Rudolph The Olympic Park bomber used bombs to attack and terrorize. He killed two people and injured more than 100 in the Southeast over a three year period. He targeted abortion clinics and gay nightclubs and murdered a police officer. He was #1 on the FBI's most wanted list. Who captured the most wanted man in the United States? None other than 21-year-old Murphy North Carolina Police Officer Jeffrey Scott Postell, that's who. How? Officer Postell was doing a business check on a Save-a-lot store at 4:00 am.

And finally…

#3. Kamran Akhtar The interesting and telling thing about this case, outside of his capture, is that Akhtar was in the U.S. illegally and was told in 1998 that he had three months to leave the country. He apparently decided there was no reason to obey that order. On July 20th, 2004 Akhtar was observed by Police Officer Danny Maglione videotaping skyscrapers in Charlotte, N.C. Maglione noticed Akhtar standing on a corner, acting in a manner he thought to be suspicious. "When I slowed down, he would turn quickly and not try to make eye contact with me," Maglione said. During the investigation Akhtar was found to be in possession of photos and videos of: the Mansfield Dam in Austin, TX, the MARTA Transit System in Atlanta, the FBI building in New York city, the Transit Center in Houston and Trolley Cars in Dallas.

The list grows longer by the day as does the intent and resolve of the terrorists.

In 1998, a Fatwa (religious order) authored by Sheikh Omar Abdel Rahman was smuggled out of his Prison cell. The Sheikh was in prison (courtesy o f the FBI) for encouraging acts of violence against US civilian targets, in the New York and New Jersey areas. The Fatwa was simple and direct: "Destroy [Americans]… thoroughly erase them from this earth. Ruin their economies… Sink their ships, bring down their planes. Slay them in the air, on land, on water. And with the command of Allah, kill them wherever you find them…. Lie in wait for them and kill these infidels."

The point of this short article is to begin the thought process among us in law enforcement. We must realize that the terrorist threat is not just coming from the stereotypes hyped by the media nor is it a threat that has passed. It is ever present in our midst. Dave Smith's goal for the Terrorism block in our Seminar was simple: Education and Vigilance.

It is up to each of us to educate ourselves about what terrorism is, what are its goals, and how dangerous it is to fall into the belief that it is someone else's job to combat it.

Be safe!
ITT Night Vision