Elaborate FBI sting snares Mass. politicians
---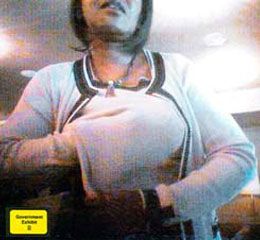 This June 18, 2007, file still image made from video, which was included in an affidavit filed by the FBI in federal court and released by the U.S. Attorney's Office, allegedly shows Massachusetts state Sen. Dianne Wilkerson, D-Boston, stuffing bribe money under her sweater at the bar at No. 9 Park restaurant in Boston. (Photo AP/U.S. Attorney's Office)
By Steve Leblanc
Associated Press
BOSTON — The meeting appeared routine -- a businessman and politician stopped at a sandwich shop to chat about plans to develop a nearby parcel of land. But this get-together had an unusual twist: The state senator allegedly got $10,000 in bribe money and authorities left with more evidence in the most elaborately orchestrated public corruption sting in decades in Massachusetts.
For 18 months, the operation targeting former state Sen. Dianne Wilkerson played out in upscale restaurants and scruffy eateries, through the marbled halls of the Massachusetts Statehouse and Boston City Hall.
Along the way, the probe dragged in dozens of unwitting side players, from the mayor and City Council president to Wilkerson's Senate colleagues. It also led to corruption charges against a five-term city councilman.
Wilkerson, who resigned last month after being indicted on eight federal counts of attempted extortion, has maintained her innocence.
It all started with a businessman's frustration over a liquor license. Since the investigation became public, he has identified himself as Ron Wilburn, a 69-year-old former Wilkerson backer with strong ties to the community.
Wilburn first approached Wilkerson in December 2006 for help obtaining a liquor license for a new club he'd hoped to open. His initial request was denied. Frustrated with the process, which he has said was rife with "cronyism," he started to work for the FBI.
With investigators listening this time, Wilburn again approached Wilkerson for help getting a license, offering to "take care of" her. Wilkerson promised to "kick some tires."
A month later, on June 5, 2007, the two met at a restaurant near Beacon Hill. Wilkerson assured Wilburn she'd get the license and Wilburn allegedly passed her $500.
The alleged payoff -- captured on videotape -- was the first of eight such payments documented in the FBI affidavit.
Within weeks, Wilkerson called Wilburn to say she'd "talked to the mayor" and was confident she could get him a beer and wine license while they waited for a full liquor license.
U.S. Attorney Michael Sullivan has said Mayor Thomas Menino, other members of the Legislature and the governor's office were not targets of the corruption probe.
The next day, Wilburn met Wilkerson at the posh No. 9 Park restaurant across from the Statehouse. Again the exchange was videotaped, and again the FBI said Wilburn passed Wilkerson a payoff, this time $1,000, pressing her for a full liquor license.
Wilburn told Wilkerson: "You tell me what you want. If this goes through, you got it. You, you tell me your price." Wilkerson was photographed stuffing the 10 $100 bills up her shirt.
Through the summer, Wilkerson told Wilburn she was turning up the pressure, delaying a bill that would increase the salaries of licensing board members unless his license was approved, according to FBI records.
In mid-August, Wilkerson pushed again, organizing a high-powered meeting with the Senate president, the City Council president and other key players. Wilkerson said those at the meeting agreed she would sponsor a bill authorizing 40 new nontransferable liquor licenses for Boston, with one going to Wilburn's club.
A week after the club obtained its beer and wine license, the Senate approved the licensing board salary increases. That success prompted another meeting in which Wilburn allegedly slipped Wilkerson another $1,000.
On Halloween last year, Wilburn called Wilkerson to say he'd gotten the full liquor license. Three days later, he allegedly paid her an additional $3,000.
Wilburn, who had already introduced one of the undercover FBI agents to Wilkerson as an out-of-state businessman, then dropped out of sight and the agent began to deal with Wilkerson.
The agent asked Wilkerson if she could earmark a license for another project, sliding her an envelope with $2,000. When the agent mentioned he was looking for a larger parcel to develop, Wilkerson suggested one that abutted state-owned property.
Wilkerson said should she could push a bill that would directly designate the property to the developers, circumventing the bidding process.
That's when politics intervened. Wilkerson, who'd held the same Senate seat for nearly 16 years, lost the Democratic primary.
Still, she wasn't ready to give up her seat, or her efforts to pass the bill designating the land to the men she believed were out-of-town developers. Wilkerson vowed to mount a write-in campaign -- something she estimated would cost up to $70,000, pressuring her to raise fast cash.
At one point, Wilkerson allegedly told one of the FBI agents: "Whatever you can do, I'm telling you, would be a huge help."
On Oct. 2, one of the undercover agents met with Wilkerson at a sandwich shop. The agent opened a leather day planner containing $10,000 in 100s and 50s and said, "It's for the work that you did to get us to this point and the work that we need you to do from this point forward."
Wilkerson, according to the affidavit, slipped the money into a manila folder and laughed.
On Oct. 21, Wilkerson let one of the agents know she had filed the legislation.
Seven days later, Wilkerson was arrested at her Boston home. Senate President Therese Murray led an unprecedented move to ask Wilkerson to resign immediately after she was charged, saying a "taint" was cast over the Senate by the allegations.
City Councilor Chuck Turner also has been charged in the sting with accepting a $1,000 bribe. Turner maintains he is innocent and was entrapped.