3 reasons this sheriff's department bought new earpieces for every deputy
Comfort, comfort, comfort … and safety, discreetness and high-quality audio
---
Sponsored by N-ear
By Laura Neitzel, Police1 BrandFocus Staff
Ever since Deputy Sheriff Patrick Siegert was a kid in Germany, he knew he wanted to be a United States law enforcement agent. As an adult, he became a paramedic and a SWAT medic and has spent most of his career doing private security for executives.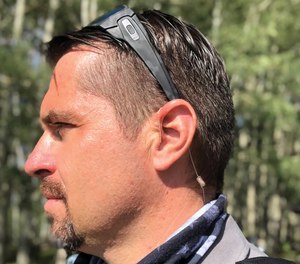 His childhood dream finally came true in 2016, when, after years of visiting the U.S. for various trainings, he got a green card and was sworn into the Jackson County Sheriff's Office in Colorado.
His career in private security – along with having been commander of a water rescue unit ­– made him appreciate a good earpiece that provided high-quality audio, along with comfort for long shifts. When Siegert encountered N-ear earpieces at SHOT Show, he got a sample to try for his security work. He was instantly convinced that the N-ear speaker was the one for him – and today he owns "practically every model they make."
The biggest reasons Siegert is an evangelist for the N-ear earpieces are comfort, safety, audio quality and their discreet profile.
Comfort is built in
What makes N-ear earpieces like the N-ear 360 more comfortable than traditional acoustical tube earpieces is the design. N-ear speakers are made with a thin, braided Kevlar wire that extends into the ear canal, much like the speakers used in hearing aids, Siegert says. This makes them more comfortable while also allowing the wearer to hear ambient audio, since it does not block the ear channel.
"Now, if you pop any other earpiece in, depending on the brand and how it's made, it's OK for maybe an hour or two, three or four, but we work sometimes 12, 14, 15 hours," said Siegert. "The ear fatigue – the pain that's created over time – is just a very uncomfortable thing."
Comfort is safety
An uncomfortable earpiece is not just a matter of comfort – it's a matter of safety for a couple of reasons.
First, if you're messing with your earpiece because it's uncomfortable, you're less situationally aware. And if your earpiece is uncomfortable after a period of time, you may be tempted to not use it at all.
"Why are we wearing earpieces in the first place? The reason is that we can listen to our radio traffic, but nobody else can," said Siegert. "It increases officer safety tremendously."
A common scenario might be when running a person's information at a traffic stop. Imagine you get the information back that the driver has an outstanding arrest warrant. If that information comes back over a speaker where the driver can hear it, that can put a law enforcement officer at risk, Siegert says. If you have an earpiece in, they can't hear anything that's coming back.
It's not only that a felon could be triggered by hearing a warning. Plenty of the information transmitted over an officer's radio is not appropriate for others to hear, or may be disruptive, like when a deputy is transporting a defendant to and from a courtroom.
Quality sound for any situation
The N-ear 360 features an array of interchangeable ear tips that can be adjusted for size and level of noise canceling for a wide range of law enforcement operations. Most of the Jackson County deputies use a single earpiece with a 22- or 48-inch wire, but Siegert also uses a dual earpiece for certain situations, like events with a large crowd of people and loud music.
"Then I like to have the duals in, because I just can hear it better without having to crank up the volume too much," he said.
Discreet is sweet
The fact that the N-ear earpiece has a low profile is another big advantage to Siegert.
"The profile is so slim, it's not very visible, so it's also good for some kind of undercover operations," said Siegert.
The slim profile also means the N-ear earpiece can be worn with headsets or hearing protection covering the ears for the range or an active shooter situation.
"You can have the N-ear in as usual," said Siegert. "Just put the hearing protection on top and you still can hear all the radio traffic while you're hearing is protected."
The fact that the N-ear earpiece provides all-day comfort along with superior quality audio and a discreet profile have led Siegert to recommend N-ear earpieces to other law enforcement agencies in addition to his own.
Before Siegert introduced Jackson County Sheriff to the N-ear earpieces, deputies either wore no earpiece or provided their own. But after being convinced of their value, the sheriff bought them for every deputy.
"What I'm telling everybody is that it really is a game changer when it comes to earpieces," said Siegert. "I'm a gear guy, so I like to test and try new things all the time, but I'm convinced. I haven't found anything better."
Visit N-ear for more information.
Read next: Why the quality of your in-ear technology matters

Request information from N-ear Inc.
Thank You!