PRESS RELEASE
New CLEARPASS Body Scanner arrives at St. Mary's County Detention and Rehabilitation Center in Leonardtown, MD
---
LEONARDTOWN, MD. — ADANI Systems successfully installed their CLEARPASS, and St. Mary's County Detention and Rehabilitation Center officers are already experiencing the benefit of the best Automated threat detection system. 
 "We appreciate the Commissioners of St. Mary's County's support in this significant investment in public safety at our Detention and Rehabilitation Center," said Mary Ann Thompson - Deputy Warden - St. Mary's County Detention and Rehabilitation Center.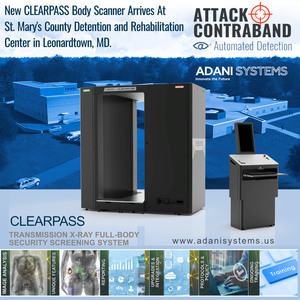 CLEARPASS full-body X-ray scanners with an l-shaped detector, patented DRUGUARD®, and A-eye Automated Narcotics Detection software is the most efficient solution to attack contraband; safe and accurate drugs, weapons, and electronics detection.  
At ADANI Systems, we believe that contraband smuggling into a correctional facility is a serious issue and hazard for both staff and inmates. Nationwide, smugglers' introduction of contraband into a facility often results in injuries and deaths in correctional institutions.
With those factors in mind, the Commissioners of St. Mary's County earlier this year approved the $170,250 purchase of a full-body scanner for the St. Mary's County Detention and Rehabilitation Center in Leonardtown. As a result, on September 10, 2021, CLEARPASS full-body Security Screening System was assembled and installed at the Detention and Rehabilitation Center. The Corrections staff diligently searches inmates and offenders upon their entrance into the jail for contraband, and this investment in technology offers another layer of security.
We proudly serve customers in more than 38 US states, providing Department of Corrections, County Sheriff's offices, Government buildings with uncompromising customer-centric service and the highest industry standards.
WORLD-LEADING X-RAY IMAGING SOLUTIONS
Founded in 2006, ADANI Systems Inc. has over 15 years of experience in security X-ray imaging and specializes in Full Body Scanners, Baggage X-ray Systems, and Cargo Screening Solutions.
Our innovative in-house engineering and design departments distinguish ADANI Systems as a globally recognized leader in security, non-destructive testing, and medical imaging. ADANI Systems, Inc. leverages world-class scientists and software developers to deliver unique solutions to global challenges. We develop and proudly manufacture our industry-leading imaging systems in the United States to meet today's security challenges with the innovation and quality to perform in tomorrow's world.

Request more info from ADANI Systems
Thank You!