The technology recruits expect to find in police patrol cars
As departments struggle to recruit officers, it is critical agencies up their technology game to offer new cops the latest tech and tools available in law enforcement
---
A recent police vehicle conference unveiled some of law enforcement's most exciting new technology upgrades for patrol vehicles.
Some of the notable items on display included a major upgrade in police sirens. Agencies now have options to switch between nearly a dozen different siren sounds ranging from the "whoop, whoop" to the futuristic "chirp rattle ring" techno, instead of being stuck with just one sound.
Also on display were wrap around push bars that protect vehicles during the PIT maneuver; molded prisoner seats and reverse-operated seat belts that make prisoners more comfortable and safer; and lower-profile, higher-tech LED lights that can change flashing patterns and colors depending on the officer's needs.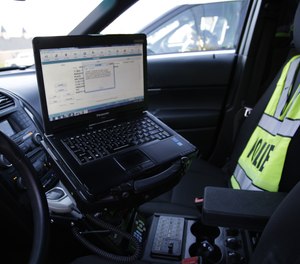 Are you looking for more advanced technology? How about a bumper-mounted GPS dart gun, nearly invisible automatic license plate readers, or drone-equipped trunks that can deploy a drone in seconds.
As police departments struggle to recruit the next generation of officers, it is critical agencies up their technology game to showcase the latest technology and tools new officers will use on the job. Recruits expect the newest technology in policing. From voice diction technology to tablet devices, this article outlines some of the technology new officers expect to find inside their squad car.
Voice technology
New police car interiors resemble more of a jumbo jet cockpit than a traditional police cruiser. Police car interiors are full of computers, microphones, cameras, gauges, CO2 monitors, switches and buttons. Fortunately, voice-operated controls make multitasking easier and safer.
Officers can simply speak commands like "open RMS," "Click number 6," or "run license plate ABC123," instead of clumsily trying to find the right button, switch, or key on the computer.
Because of voice technology, officers can now focus more on driving and situational awareness rather than simultaneously trying to type, push a button and drive.
Voice technology can do a lot more than just open a computer system or turn on a light. Speech-to-text (voice diction) technology, for example, has drastically improved in recent years. Officers can simply talk into a microphone and the system will transcribe what the officer said. Officers can use voice diction technology to quickly dictate and transcribe notes directly into their agency's RMS system, or even dictate entire police reports. Voice diction technology should be a serious consideration for any agency still using employees to manually transcribe officers' voice notes or reports.
Lower profile computer mounted systems
Gone are days of bulky laptop computer-mounted systems that block the driver's view of the road. Modern police cruisers use slimmer, more ergonomically friendly computer mounted setups. The newest systems use removable tablets instead of laptops. The tablets are mounted directly into the dash removing the need for a computer stand and giving the driver and passenger a few more inches of room. And all officers agree, a few more inches of space does make a big difference in comfort. These dash-mounted systems are also mounted below the windshield, which increases the officer's line of sight and gives them an unobstructed view of the road.
Computer-mounted keyboards have also improved. Officers can now move, swivel, tilt and tip the keyboard into a position that is perfect for them. No more bending, twisting, leaning or reaching, which leads to back and posture issues. These ergonomically designed keyboards reduce wrist drop, are water-resistant, and are dirty car partner resistant (they can be wiped down and sanitized).
Radio with prerecorded announcements
Police radio options are often overlooked during the purchase of a new patrol vehicle. However, it is a small upgrade that can make a big difference. Hidden front and rear-mounted loudspeakers can blast prerecorded announcements that will easily penetrate through residential and commercial building walls. Officers now have options and can choose between many prerecorded announcements, including one for a missing person, one for a pre-K9 search and one for a barricaded subject. 
Officers can also personalize and record messages for specific incidents, can add the option of a second language and can click repeat for continuous play.
The new loudspeakers are not only louder, but they are also smaller and lighter. They can be tucked away on the front and rear of the patrol car, giving the officer an almost 360-degree sound coverage. These systems are a significant upgrade over older models and come with voice control, volume control, and even bass and treble control options to make announcements crystal clear.
New officers expect the newest technology. Whether you choose a voice diction upgrade or a bumper-mounted GPS dart gun, you will want to showcase your agency's technology during your recruitment efforts. Before outfitting any police vehicle, take the time to consider which options work best for your agency, your officers and your community.