This speaker microphone lets you convert to an external headset with wireless PTT at the slide of a switch
This all-in-one device offers flexibility for different situations at a reasonable cost
---
Sponsored by Earphone Connection
By Tim Dees for Police1 BrandFocus
Few police officers would want to hit the street without a portable radio, but that doesn't mean they like everything about their radios. Is there a way to provide officers with flexibility for different situations, and not have to buy or carry a bag full of external accessories?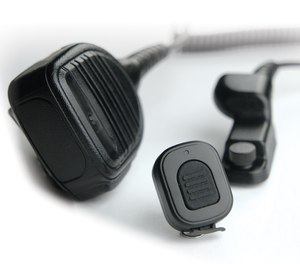 The Rhino Blue Speaker Microphone with Wireless PTT from Earphone Connection offers not just one solution, but several, all built into a single product. Users can move from a traditional speaker/mic clipped to the epaulet or shirt front to a listen only earphone, to a boom mic, to a motorcycle radio helmet, all from the same unit. Even better, a wireless push-to-talk (PTT) switch frees up the user's hands without the need of another cable to route or thread to avoid entanglements.
Flexible options
Officers don't always appreciate the need for a different radio configuration until they are in an environment where what they have is impractical. A speaker/mic is a decent tool while riding around in a patrol car, but not so much during a stop while you're waiting for the reply to your wants and warrants inquiry. Now, when the dispatcher tells you the person you're speaking to has an outstanding felony warrant, you might prefer that tidbit of information was just between you and the dispatcher for the moment. Freddy Felon had a pretty good idea he had an outstanding warrant, but when he hears that you are now in on the joke, it's track star time. Gotta love those foot pursuits.
With the Rhino Blue speaker microphone, the officer can plug in an earphone, and by sliding the switch on the speaker/mic, can switch the audio to the earphone only. This can be done "on the fly," with no need to plug in any additional equipment or otherwise reconfigure the setup. Mic input goes from the speaker/mic to a wraparound boom or a throat microphone, again by plugging in the appropriate accessory and sliding the switch.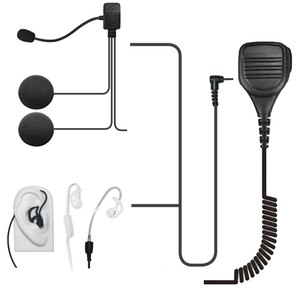 Building searches are an example of one environment where this capability is useful. If you're creeping around a dark warehouse looking for a burglar, you don't want your inbound or outbound radio traffic to give away your position to the guy you're looking for. A microphone that is just an inch or so from your mouth or against your throat allows you to whisper and still be heard by everyone on the network.
That same building search scenario is a great situation for another Rhino Blue feature, the wireless PTT button. When your hands are tied up with your sidearm and your flashlight, you can't reach the transmit button on the radio without first putting something away for the moment. The Rhino Blue wireless PTT connects to the speaker/mic via wireless Bluetooth. It comes with several hook-and-loop attachments that allow you to put it anywhere you like – on the side of your flashlight, the trigger guard of your sidearm, on the steering wheel of your car, or anywhere else you regard as practical.
The PTT links to the speaker/mic via Bluetooth or RF pairing depending on your radio make and model. Simply hold the PTT button down for a few seconds until you see a flashing blue light on the PTT button, and you're in business. The internal battery of the PTT switch allows for as much as 200 hours of talk time, and recharges in an hour or so via a micro-USB cable.
One-stop shop
Whether your radio has a complex, custom multi-cable or a simple two-pin connector for a speaker/mic, Earphone Connection can probably accommodate you. In addition to the basic speaker/mic and Bluetooth PTT switch, they also offer listen-only earpiece combo bundles, and for motorcyclists they offer a bundled kit that includes a noise cancelling motorcycle headset exclusively for helmet use at an affordable price.
Accessories can be prohibitively expensive with some portable radio systems, discouraging agencies and their employees from buying equipment that makes their job easier or safer. Earphone Connection recognizes this problem and offers connection hardware to fit most portable radios in common public safety use, and at a reasonable cost.
Visit Earphone Connection for more information.
Read next: Now you can use your favorite earphones on patrol
About the author
Tim Dees is a retired police officer and the former editor of two major law enforcement websites who writes and consults on technology applications in criminal justice. He can be reached at tim@timdees.com.
Request information from The Ear Phone Connection Inc
Thank You!