Chicago police expand tech to curb shootings
In an effort to combat gun violence, the department has made technological advances -- including the expansion of a gunshot detection system and crime cameras on the street
---
By Bill Ruthhart, Jeremy Gorner and Hal Dardick
Chicago Tribune
CHICAGO — Two days after President Donald Trump told a national television audience that Mayor Rahm Emanuel needed to "smarten up and toughen up" on fighting gun violence, the mayor held a carefully orchestrated news conference to discuss Chicago's "smart-policing strategy."
As Emanuel summoned a swarm of cameras to the 7th District police station in Englewood on Friday to highlight new police cameras and gunshot tracking technology, sources said the Police Department's top brass was busy carrying out an order to flood the city's most violent neighborhoods with extra officers this weekend.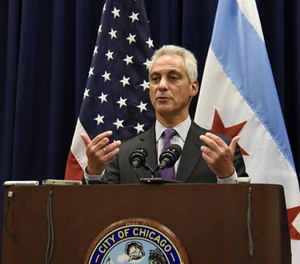 In a Tuesday night tweet in which he said he "will send in the Feds!" if the city doesn't fix its violent crime problems, Trump cited Chicago Tribune crime data that showed January homicides up 24 percent compared with 2016, a year marred by the highest number of killings in two decades. Trump again criticized Emanuel and the city's handling of gun violence in his first television interview as president Wednesday night, describing Chicago's rampant shootings as "horrible carnage" and "a problem that is very easily fixable."
Now, hundreds of additional Chicago police officers assigned to tactical, gang, saturation and mission teams have had their regular days off canceled from Friday through Sunday, according to police sources familiar with the change that was announced during a meeting at police headquarters. The city's beat officers also were given the option of earning overtime by working weekend days off, the sources said.
Adding so many officers to the street on their day off is more typical during hot summer months or special occasions such as when the president is visiting the city; is unusual for a cold-weather month such as January. This month has been marked by weekends with dozens of shootings, including 54 people shot last weekend alone.
Through Thursday, there had been 42 homicides so far with five days left in the month. In January 2016, there were 50 homicides. If the number of killings for January were to come in lower than last year, that would allow Emanuel to try to counter Trump's narrative of this year being off to an even worse start.
Chicago police spokesman Anthony Guglielmi said the staffing adjustment was unrelated to recent attention paid to Chicago's gun violence by the Republican president.
The mayor did not bring up the weekend staffing increase at his Friday news conference, instead focusing on technological advances the department is making in its two most violent police districts on the South and West sides -- including the expansion of a gunshot detection system and crime cameras on the street along with new surveillance centers and new cellphones with software to instantly inform officers of shootings.
The mayor's announcement came to an abrupt end when police Superintendent Eddie Johnson grew faint and had to be helped to a chair, leading officers to call paramedics and escort reporters out of the room. On Friday night, Johnson said he had become lightheaded earlier in the day after taking blood pressure medication on an empty stomach, but he confirmed he's had a kidney disease for more than 30 years and is on a list waiting for a transplant.
While Johnson's health episode Friday came as a surprise, the rest of Emanuel's policing message for the day was scripted for public consumption.
Before Emanuel's arrival at the Englewood district, six police officers already were stationed at computers in a small, windowless room that featured four large flat-screen TVs on the wall. While a sign proclaimed the spot as a "viewing room," the Police Department's brass and the mayor's office called it the "Strategic Decision Support Center," which is staffed by a district intelligence officer who will incorporate the new technology with offender criminal history and crime data.
"The mayor is 10 minutes out, so if everyone could stage and get ready, all right? No pressure," Jonathan Lewin, CPD's deputy chief of bureau support services, told the room. "I need the officers who are going to meet the mayor in the lobby."
About 15 minutes later, Emanuel arrived through the station's back door and greeted the officers who were staffing the new "nerve center," as the mayor called it. "I'll be back," he told them. "They want me to do something."
Emanuel then made his way to the lobby, where 17 television cameras were recording as Emanuel and Johnson greeted the four officers -- one each African-American, Asian, Latino and white -- who had been waiting to participate in the prearranged shot.
After that photo op, the crush of cameras followed Emanuel into the tiny surveillance room, where Lewin walked Emanuel through the new technology as officers remotely zoomed in street cameras on license plates and explained how the gunshot tracking technology would allow officers to respond to a scene five minutes faster than from a 911 call.
"You can control the cameras from here?" Emanuel asked. "Yes," Lewin responded. "This is real time?" the mayor inquired. "Yes," was the answer again.
Much of what was discussed was difficult to hear, as the Police Department's media handlers barked orders to the TV photographers, who were being directed in and out of the room in shifts to record Emanuel's interest in the effort.
"Which screen are you looking at?" a photographer asked the mayor at one point.
"The one on the far left," Emanuel responded, pointing to a map of the 7th District that had labels for territory covered by various gangs, including the Gangster Disciples, Conservative Vice Lords, Mickey Cobras, Black P Stones, Black Disciples and Latin Kings. A second screen showed a "heat map of homicides." A third was streaming live street surveillance footage.
As Lewin explained how all the technologies eventually will be merged into one cohesive software system, Emanuel stopped him. "Do that again for me," the mayor said as the cameras rolled. "I'm slow."
Once Lewin finished his presentation, Emanuel headed upstairs to the district's roll call room, where he lauded the new technology, which he's paying for with money from unclaimed property tax rebates aimed at easing the pain from the record property tax increase he and aldermen approved.
"This allows our police officers to be all that much smarter and more effective in using technology and command ability to make sure people are in the right place at the right time to prevent a shooting in the first place," Emanuel said.
In a news release, Emanuel's office described the technology as part of the city's "smart-policing strategy," a term that had not been used in previous mayor's office announcements.
Less than 48 hours earlier, Trump had called Emanuel out on needing to run a smarter policing effort.
"It has been going on for years," Trump said of Chicago's rash of shootings and homicides. "So, all I'm saying is, to the mayor, who came up to my office recently, I say you have to smarten up and you have to toughen up, because you can't let that happen. That's a war zone. I want them to straighten out the problem. It's a big problem."
At the news conference, Emanuel was asked if there "was any coincidence" that his Friday announcement came after Trump's recent criticism.
"You don't put something like this together overnight," Emanuel replied. "It's about what's right for the future, not about any current event."
Chicago Tribune's Rosemary Regina Sobol contributed.
McClatchy-Tribune News Service

Request product info from top Police Surveillance companies
Thank You!