Next-gen pole cameras bring new attributes to police and tactical teams
These sophisticated tools have come a long way from their earliest days
---
Sponsored by Tactical Electronics
By John Erich, Police1 BrandFocus Staff
It's never been easy to be a cop. But in America over the past few years, it's become tougher than ever.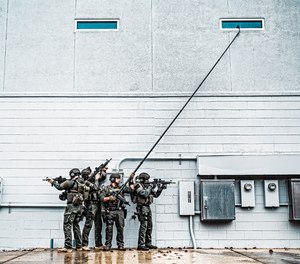 Crime has risen dramatically since 2019. The COVID-19 pandemic triggered mental, emotional and economic problems that often spilled into public. We've come to ask and expect more of officers – at a time when many Americans have become more skeptical of police. It all leaves hardworking LEOs with little margin for error.  
But there's good news with the bad. One positive development has been the availability of many new and improved tools to help law enforcement gain control of dangerous situations more quickly and decisively and better protect life and property. These include a range of cameras and viewing equipment for remote insight into difficult tactical scenarios.
"It's come a long way," said Curtis Sprague, a career LEO who now oversees outside sales in the Western U.S. for Oklahoma-based Tactical Electronics, a leading provider of camera systems and related gear for police and tactical teams. "Back when I first started, we didn't have cameras. We had bicycle mirrors on broomsticks – that's what we used to look into attics and crawl spaces and around corners. And that was kind of the industry standard: There was a combination of bicycle and dental mirrors attached to various things."
In that regard today's officers have significantly better tools and technologies. These include Tactical Electronics' CORE and SWIFT lines of pole cameras and associated products – all designed to give law enforcement unparalleled insight from a safe distance about the various challenges they face.
What qualities do tactical cameras need?
Rich Emberlin knows a few things about that. A 30-year law enforcement veteran who served with the Dallas Police Department's SWAT and dignitary protection teams, Emberlin participated in countless calls over the years that involved hostage rescues, barricaded suspects and warrant services. 

Emberlin shared his guidance for buying tactical surveillance cameras in a 2018 article. These were among his key considerations:
Cameras and all SWAT equipment should be light and easy to carry.
Cameras should be hand-held and of straightforward design with various lengths and functions – able to see over walls, around corners and under doors. A telescoping pole will let officers view from a distance.
Operators should be able to view events through the camera lens, a monitor and even a wrist monitor.
Wireless operation and long battery lives keep users agile.
Real-time capability is essential. High-definition aids better decisions, and thermal abilities can prove useful.
Cameras should be operable surreptitiously, unknown to suspects.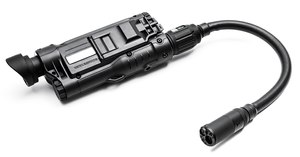 Emberlin could have been describing Tactical Electronics' CORE and SWIFT lines, and in particular their pole cameras – they check each of those essential boxes.
"Our main focus is less bulk, fewer restrictions and increased freedom of movement for the officer," said the company's Russ Strozier. "Often they're already wearing plates and helmets and are already weighed down. They have their weapons strapped to them, probably a sidearm, maybe shields in certain scenarios. We want our products to be as nimble and useful and rugged as possible."
Those qualities have always been a priority for Tactical Electronics, which began nearly a quarter-century ago making wireless camera systems for military special operations. The company found quick success there and then a logical growth area in law enforcement. Its first pole camera was the PCSS1, some of which are still used by departments today.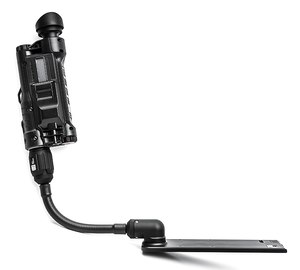 The PCSS1 had numerous features that were carried over, improved upon and added to for the CORE and SWIFT products. Prominent among them were its light weight, variable length, wireless and low-light operation, and, with the CORE line, ability to switch out camera heads.
The benefits don't stop there, however. Pole cameras in 2023 – especially Tactical Electronics' – have a lot of features to offer.
Pole cameras meet the digital age
The CORE line brought the analog operations of the PCSS1 into the digital world. "We digitized everything, gave it a Wi-Fi connection. It took us into the digital age," said Sprague, who also manages his company's accounts for Homeland Security, Border Patrol and the FBI. "We also made everything modular, so you can have multiple tools in one."
The CORE line's modularity is a big point of distinction: Tactical Electronics' CORE Pole Grip – available in lengths of eight, 10 and 17 feet extended, plus a 17-foot hinged version – allows the company's CORE Pole Camera, Flex Camera and Under Door Camera to be easily attached or removed, depending on the situation. This lets officers meet a range of tactical needs by carrying a single tool with multiple camera heads.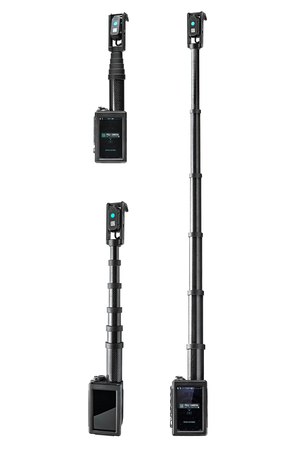 The CORE Pole Camera also has low-light sensitivity and not only thermal vision mode, but Thermal Fusion technology, which overlays an outline of the traditional camera image with the color thermal view for a complete single picture of any situation.
"When you look at a thermal image of a room, bodies glow yellow – they're easy to spot," explained Sprague. "Other stuff – furniture, architectural features – that's all room temperature, so when you look at it with thermal imagery, you don't get a lot of detail about what you might run into when you go through the door – the nooks and crannies where a bad guy could be hiding.
"With this thermal fusion view, looking into a thermal room, we now see the furniture, the corners, the stairwells, the hiding spots, and it helps us develop a more accurate entry plan."
The CORE Pole Camera streams video, wirelessly and encrypted, back to the CORE Monitor. Operators can use both the monitor and the pole grip to control the camera's illumination – consisting of four high-intensity infrared LEDs plus four white LEDs for additional lighting in dark spaces – and an all-direction microphone works with the camera to record audio and video. A wired connection is also available.
The poles are made from high-density graphite with locking extensions and collapse down to 28–47 inches. The CORE Pole Camera itself is just 11.375 by 1.65 by 1.29 inches and weighs only 11 ounces. It can run for 2½ hours on three CR123 batteries.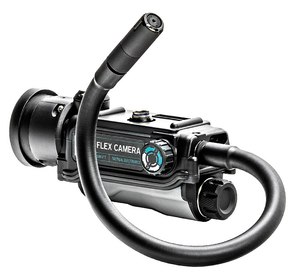 Users on the go need another option
As useful as the CORE line proved, some clients still had additional requirements. One of Tactical Electronics' partners needed something slightly more streamlined: a pole camera that could be concealed until setup and deployed a bit more quickly and surreptitiously. "They wanted something that could be just grabbed on the go and used very hastily, one-handed," said Sprague.
That led to the SWIFT line. Up and running in 15 seconds, the SWIFT Pole Camera – available in one- and 1.75-meter extended lengths – offers low-light and thermal operations comparable to the CORE but with some features simplified for easier field use. Two white and two IR LED lights provide illumination. Dual-view video appears on a four-inch LCD monitor attached to the pole handle. The poles collapse down to 13 and 18 inches respectively and come with an integrated end hook for one-handed extension and retraction.
A tactical accessory port provides both USB and ethernet connectivity to support video streaming to ATAK and/or MANET radios, along with an optional five-gigahertz Wi-Fi. Powered by a pair of CR123 batteries, the SWIFT pole camera has a run time of 60 minutes and a standby mode to help preserve battery life. Both versions weigh under two pounds.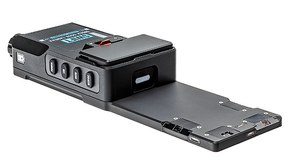 "The SWIFT Pole Camera is more individual gear," explained Sprague. "It fits easily on your vest or in a cargo pocket and can be deployed with one hand. Say I come to an area and see a ceiling tile I want to look behind. I can push it up, pop my SWIFT Pole Camera up in there and quickly check it out. I can do that in 30 seconds and have it packed back up on my person and be out of there."
Solutions for every situation
There's more to the CORE and SWIFT lines than pole cameras. The CORE line also offers an eight-millimeter Video Scope and Articulating Scope in addition to its Flex Camera, Under Door Camera, Monitor, Grip (a non-pole grip for all CORE cameras) and more. The TE View app lets a live feed from any camera be viewed on an Android device. The SWIFT line includes Flex and Under Door cameras, Video Scope and the one-inch TE Monocular, which displays video from any Tactical Electronics camera.  
With this diverse range of options, tactical users and anyone in law enforcement can be better prepared for whatever unpredictable events the day may bring their way.
To learn more, visit Tactical Electronics.
READ NEXT: SWAT and beyond: Pole cameras have many uses 

Request information from Tactical Electronics and Military Supply
Thank You!