PRESS RELEASE
AgileMesh™ Grant Assistance Program Now Available for Law Enforcement Organizations Interested in Using Grant Funds for Purchasing Command-Mesh™ Based Portable, Wireless, Surveillance Solutions
---
RICHARDSON, TX – AgileMesh, Inc., a developer of CommandMesh-based portable, on-scene, live-streaming, wireless surveillance and data communications technology for public safety applications, is pleased to announce a new program that links law enforcement agencies with grant funding opportunities.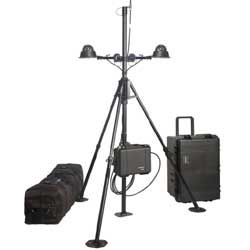 In today's tough economic environment, dollars are scarce and many city and county budgets are being cut. However, the amount of grant dollars and stimulus funding – both federal and private – available for law enforcement technology solutions has remained strong. Many agencies are unfamiliar with the grant process and lack the knowledge and/or resources to successfully apply for grants.

"Our assistance program takes the mystery and much of the effort out of matching the correct grant funding source with the specific need of the agency," said Mark Satinsky, co-founder of AgileMesh. "It is easier, faster and a more accurate way to make application and the results are proven."

To assist the effort of matching the needs of the industry with the proper funding avenues, AgileMesh is underwriting a grant assistance program managed by Police1.com to assist those interested in purchasing CommandMesh-based AgileMesh solutions.

"The grant assistance program is our way to reach out and support the law enforcement agencies that want to bring a force-multiplier to the scene that improves incident management and officer safety," said Satinsky.
Law enforcement agencies interested in obtaining grant location assistance can visit the website here: http://www.agilemesh.com/grant-assistance.html

About AgileMesh, Inc.
AgileMesh, Inc. develops portable, on-scene wireless surveillance and data communications solutions for use in Law Enforcement, Fire-EMS, Homeland Security and Loss Prevention applications. Each AgileMesh solution is powered by their proprietary wireless CommandMesh™ Incident Area Intelligence Network.  AgileMesh solutions provide public safety commanders with an enhanced level of incident and event management capability, increased officer safety, more accurate incident action records and greater liability protection.  The company was founded in 2006, is based in Richardson, Texas and serves top public safety agencies in the United States. AgileMesh may be contacted at info@agilemesh.com or visit www.agilemesh.com.

About PoliceGrantsHelp.com
PoliceGrantsHelp.com provides members of the first responder community with a comprehensive resource for Police Grants information and assistance. PoliceGrantsHelp.com features the most extensive law enforcement grant database ever created, with a library of information not only for federal grant programs, but also state, local and corporate grant opportunities. Get more information at www.policegrantshelp.com.