PRESS RELEASE
British Security Products on Show for First Time at IACP 2012
---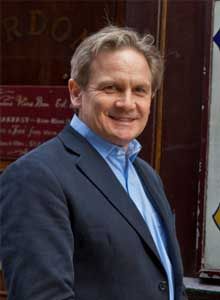 United Kingdom - Facewatch, the UK's leading online crime reporting and image sharing system, will be exhibiting at the UK Trade and Industry Pavilion, which will be showcasing the best of British crime prevention technology.

The British entrepreneurial and creative spirit is on show for the first time at IACP. The UK Trade and Investment Department were extremely pleased to be invited by the organisers for the first time and chose Facewatch Ltd as one of five successful UK businesses to showcase a selection of technologies that are contributing to making the UK a safer place to work and live.

Facewatch was the invention of Simon Gordon, who runs London's busiest and oldest wine bar. Having invested heavily in CCTV equipment and other measures to combat petty crime in his wine bar, Simon realised that he had to do more himself to help the police actually catch the bag snatchers and pickpockets. The answer was to use the Internet in a way that is so obvious he was surprised that it was not already being done.

Facewatch simply allows business and bar owners to upload CCTV film and images of crimes directly to the police along with witness statements and other evidential information in the correct format. This means that the cop on the street/in the patrol car gets a more complete notification of a misdemeanour enabling them to react more swiftly thereby saving time and money as well as responding faster. This has meant that in a number of cases a perpetrator has been caught before he has even left the neighbourhood.

Today Facewatch has evolved into a fully functioning crime prevention portal incorporating image sharing between companies and crime reduction partnerships. Smartphone apps allowing the public to identify suspects using geo-location technology and there are a range of specialist system tools for hotels and other industry sectors. The system was even used to help in managing security during the London Olympics this summer.

Facewatch is approved by ACPO in the UK which is similar to the IACP in the USA and is therefore available to all 43 Police forces in the UK.

Simon Gordon, Executive Chairman, Facewatch Ltd. (pictured):
"As a wine bar owner I created Facewatch as an answer to a problem I faced problems every day that cost me money and lost me customers. I had no knowledge, experience, understanding or background in security or technology, in fact I was an accountant until I took over the family wine bar. I picked up my mobile phone and surfed the net and then just applied logic. To catch the thieves you need to be quick and have evidence to make a conviction, the Internet made it quick and CCTV cameras properly positioned and accessible via a PC gave me the evidence. I thought, why not send the whole lot directly to the police over the Internet? Six months later we had a website that did this and our local policeman loved it. A year later we had 2,000 businesses using it and an ACPO approval - a great start but there is more to do as I would be pleased to share with you if you want to learn more about the system."
Facewatch benefits
• Security system control and management via Internet, on- or off-site using a browser enabled control panel
• Secure off-site storage of all CCTV data and information
• Strong emphasis on preventing and detecting prolific offenders
• Online crime reporting using any device with an Internet browser
• No special equipment required - a computer with broadband access is all you need
• Works with any existing CCTV system or even without CCTV for reporting only
• Perfect for shops, licensed premises, hotels and all CCTV monitored premises
• Highly visible deterrent to criminals
• Image sharing in groups such as Pubwatches, Shopwatches, BIDs, shopping centres, high streets, retail chains and larger retail groups
• Direct link to local police forces and appropriate officers - police update the crime status throughout the investigation and can use the system for secure messaging between the business and case officers which remain on the case file
• Creation of posters showing images of banned or suspect persons for use by staff
• Full statistical analysis with key performance indicators showing police status and success rates in solving the crimes
• Fully supported by the police and the only system to be accredited by ACPO 'Secured by Design'
• Creation of full evidential pack including automatic witness statements and crime reference online by the business user
• Free cancellation of victims credit and debit cards by CPP's Card Protection
• Victim and business updated by police on progress of crime investigation by email
• Training and communication pack for business users
• Improvement in customer care

About Facewatch
Personal theft, shoplifting and other low level crimes/misdemeanours such as vandalism are expensive problems for business owners and the public. Facewatch is a proven internet based system which by empowering business owners to work in partnership with the Police allows crimes to be reported quicker, with the correct evidential information and witness statements, enabling the Police to start investigations immediately and enabling the business owner to proactively help the victim. For more information visit www.facewatch.co.uk.