PRESS RELEASE
i2c Technologies introduces the QT400 covert camera kit for law enforcement
---
NORTH CANTON, Ohio — i2c Technologies is announcing the release of the QT400 covert camera kit for law enforcement. The QT400 is a complete covert camera system that supports up to four discreet HD cameras, with optional cellular connectivity, for indoor, outdoor and onboard surveillance applications. The entire system fits neatly in a ruggedized carrying case for easy transport and deployment.
"We are incredibly excited to add the QT400 kit, to our menu of innovative video surveillance solutions for Law Enforcement. The extraordinary choice of cameras for both indoor and outdoor applications as well as the ability to remotely access the system without disturbing the scene, makes this an ideal choice for any unmanned surveillance operation that needs to be kept on the 'QT,'" stated Jeff Doak, CEO of i2c Technologies.
The QT400 features AXIS HD cameras that are split into two units. A sensor unit – consisting of a lens and image sensor with a 39-foot cable – and a main unit, which is the body of the camera.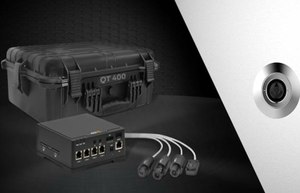 The small sensor units can be installed discreetly in tight places, while the long cable from the sensor units to the main unit provide the flexibility to place the main unit elsewhere.
The QT400 also provides the flexibility to customize your kit to suit your operation and budget. Users can choose a main unit that supports just one sensor or up to four sensors and a variety of sensor units, which include standard, varifocal, pinhole, fisheye, and thermal units.
Each sensor comes with its own mounting bracket. Video is easily retrieved via removable SD cards (included) or remotely through a network connection with optional cellular modem.
Additionally, i2c Technologies can offer a QT400 kit that includes battery power, two-way audio capabilities, an advanced LTE cellular data modem for live remote access, a ruggedized server with 1TB storage and i2c's video management software.
About i2c Technologies
i2c Technologies, based in North Canton, Ohio, is the state's premier security technology integrator and an AXIS Communications Solution Gold Partner for over 14 years. i2c Technologies specializes in IP video surveillance, access control, and deployable surveillance solutions for law enforcement and corrections.

Request more info from i2c Technologies
Thank You!