PRESS RELEASE
i2c Technologies offers new Axis anti-ligature surveillance camera for high-risk inmate monitoring
---
CANTON, Ohio — i2c Technologies is pleased to offer the new AXIS Q9216-SLV Network Camera to law enforcement and corrections agencies that need a solution to monitor inmates that are at risk for self-harm.
The camera is a compact and robust corner-mount camera designed to provide a wide field-of-view and ensure no area is left uncovered. Available in a choice of white or stainless-steel vandal-resistant housings, it delivers sharp 4 MP video quality and features Wide Dynamic Range (WDR) for clarity even when there's both dark and light areas in the scene.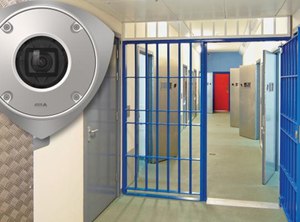 This IK10+/IP66 rated camera is ideal for high-security installations such as in prisons, jails, and psychiatric wards, where it can help prevent self-harm.
It features 940nm invisible IR illumination and polygonal privacy masking for flexible coverage and to help ensure occupant privacy is respected.
Additionally, for ease of maintenance, the stainless-steel casing is IP66- and IP6k9k-rated to allow cleaning with high pressure, high temperate water jets. And, the abrasion-resistant two-part front cover is easily removed for more thorough cleaning.
Key features include:
Anti-ligature, robust (IK10+)
Corner camera– no blind spots
WDR and invisible IR (940nm)
Compact design – easy to install
Zipstream supporting H.264 and H.265
This product offers Axis Zipstream technology with support for both H.264 and H.265 which significantly reduces bandwidth and storage requirements. Furthermore, signed firmware and a Trusted Platform Module (TPM, FIPS 140-2 level 2 certified) help prevent unauthorized access and safeguard the system.
i2c Technologies offers free shipping on AXIS cameras and remote set-up and configuration anywhere in the continental U.S.  AXIS cameras are compliant with the 2019 NDAA and are eligible for use in federal and military facilities and applications.
About i2c Technologies
i2c Technologies, based in North Canton, Ohio, is the state's premier security technology integrator and an AXIS Communications Solution Gold Partner. i2c Technologies specializes in video surveillance, access control, and deployable surveillance solutions for law enforcement, corrections and critical infrastructure.

Request more info from i2c Technologies
Thank You!