PRESS RELEASE
New NightThief Forensic Imaging Technology Delivers Smarter Investigations and Safer Communities
---
FRP Forensic Imaging's new image enhancement and reconstruction technology means poor quality images are no longer safe places for criminals to hide.

​INDIANAPOLIS, INDIANA – November 20, 2013 - Philosopher Ludwig Wittgenstein said, "A picture is a fact." For law enforcement professionals, a picture or video often contains the complete visual DNA of a crime – and that's today's reality. Identifying players and crime scenes quickly and accurately can mean the difference between safe case resolutions and cold cases. Unfortunately, most criminals don't pose for security cameras or commit crimes where conditions and lighting are perfect. They also understand witnesses are poor photographers when confronted with chaos or violence. Because of these and other realities, experts agree that less than three-percent of all crime-related images provide investigative value. However, this doesn't diminish the critical role images play in today's investigations – it simply underscores the need for smarter technology capable of revealing the stories poor quality images and surveillance videos have to tell.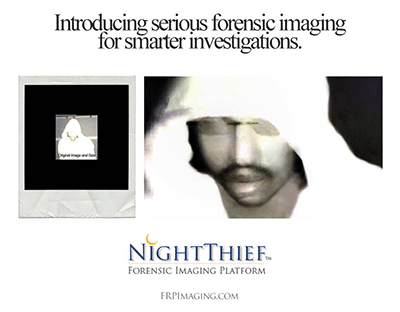 NightThief™ is a powerful new forensic imaging system by FRP Forensic Imaging™ that delivers unequaled clarity, restoration, and enhancement capabilities to crime-related images. For investigators, companies, and communities, NightThief technology is providing crucial second chances never before possible.

At the core of NightThief is its ability to intelligently reveal the minutest details using proprietary technology known as "deep peek." For simple problems, NightThief can enhance clarity and precision by more than 1700% when compared to existing technologies for more concise identification of suspects and scene details. For more challenging images, NightThief's unmatched restoration abilities revive most images with unprecedented results. From enhancing evidence-based images using ASTM 30.12 international standards to solving the most daunting recovery and restoration challenges, NightThief's extensive flexibility and capabilities deliver striking power to today's challenging criminal investigations.
NightThief imaging is available as a controlled service built around uncompromising ethics and usage frameworks. FRP Imaging's commitment to responsible forensic imaging includes strict submission requirements, chain of custody prerequisites, and a no-nonsense licensing model designed to facilitate smarter criminal investigations while protecting the privacy and liberties of innocent individuals.

Because NightThief imaging is a service, there are no upfront costs, investments in time, equipment, training, or commitments required. More importantly, NightThief is built for speed with processing times rarely exceeding three days – and critical cases much faster! Dynamic all-inclusive per-event pricing based on senior agency involvement and community population provides simple, predictable, and affordable world-class forensic imaging to organizations and communities of all sizes.
NightThief forensic imaging technology delivers smarter forensic image technology designed for more precision law enforcement investigations and safer outcomes for communities of all sizes. If your agency or organization is ready to add next generation forensic imaging to your investigatory toolset, NightThief forensic technology is the only one choice engineered to make sense where sense matters most.

To learn more about FRP imaging's NightThief™ forensic technology, explore examples of real cases and request a free professional account for your organization, please visit FRPImaging.com.
About FRP Imaging
FRP Imaging™ develops high-performance imaging solutions for law enforcement efforts that also respect the privacy and liberties of the general public. Our unique programs deliver unparalleled image restoration and clarification capabilities to agencies and organizations exclusively in the United States, Canada, Great Britain, New Zealand and Australia.
FRP Forensic Imaging is committed to advancing forensic imaging and provides an active voting member on multiple ASTM international forensic imaging standards committees. FRP Imaging™, Forensic Reverse Pixelation™ and NightThief™ are trademarks for FRP Imaging and its parent company. All rights reserved worldwide.
Contact Information
Charles Walker – Law Enforcement Liaison
Web: FRPImaging.com
Email: Charles.Walker@FRPImaging.com
Phone: +1 727.474.1452