PRESS RELEASE
Tactical Electronics presents the Sensitive Site Exploitation kit
---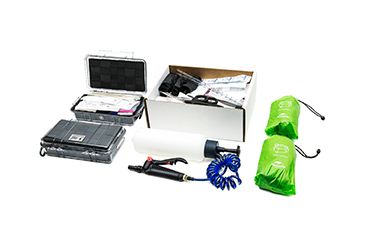 The Sensitive Site Exploitation kit (SSE Kit) is a small, lightweight but rugged system built with the SOF mission in mind. The kit provides the tools necessary to conduct numerous Sensitive Site Exploitation operations in an austere environment.
Developed by operators with decades of SOF experience, this sampling system is all inclusive and organized into a small lightweight package. Two mini pelican cases are provided for you to customize your load out for each collection and also protect collected SSE material and evidence. A replenishment kit is also included, allowing you to easily restock your sampling kit on site.
Features
Provides the ability to safely sample liquids, solids, and DNA for bulk or trace evidence in an austere environment
Modular, small, and lightweight kit designed to fit in any bag or case
Small outer case doubles as a hardened and airtight container to protect evidence, sample(s) or other SSE items like electronics
Small outer case provides a convenient and safe method of delivering hazardous samples to a laboratory, includes labeling system to provide key information to the lab technician
Sensitive Site Exploitation Kit provides a way to conduct light decontamination of samples or other materials, wanted in a biological or chemical environment
Sensitive Site Exploitation Kit provides items needed for a hasty decontamination station, such as a boot wash, drop cloths, and decon sprayer
Specialized sampling containers utilize varying barrier types for collecting liquids or solids that are reactive to standard bottles or vials
Sampling containers are specifically made for holding liquids that are caustic or acidic
Anti-static bags provided for handling materials that are sensitive to static electricity
Cost effective collection kit with the ability to perform multiple forensic collections or SSE operations
Curated by operators with decades of combined US/UK SOF experience
About Tactical Electronics:
Tactical Electronics provides wireless camera systems, IED training aids, EOD tools, and training to law enforcement and military agencies. For over a decade Tactical Electronics has been a reliable resource to lead law enforcement agencies and trend-setting military groups. Whether we are providing high-level electronics training or designing top-notch products, our goal is to deliver safety to those who protect us.

Request more info from Tactical Electronics and Military Supply
Thank You!