Finally, an app that lets you livestream drone footage
Learn how livestreaming drone footage gives first responders better benefits beyond visibility
---
Sponsored by Callyo
By Laura Neitzel for Police1 BrandFocus 
The growing prevalence of drone usage in various sectors is now mirrored in law enforcement. Expect to see the utilization of drones skyrocket in the next few years.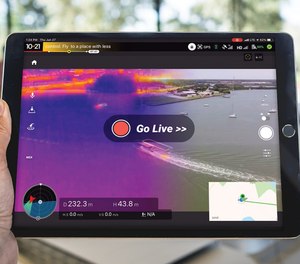 Whether used to search for missing mountaineers, locate suspects or discarded evidence, analyze crash sites, crime or disaster scenes, surveil criminal hideouts or monitor large crowds, drones are becoming essential assets to public safety agencies around the world.
The drone pilot of an unmanned aerial system (UAS) has a unique first-person, bird-eye view into a situation. In time-critical search and rescue missions or SWAT operations where officers need to gather information without being in harm's way, the more eyes on the scene, the better.
Until recently, leveraging drones required other officers to crowd around the drone pilot to get a glimpse at the screen, or even worse, wait until the drone footage was offloaded to storage.
Now those inconveniences can be a thing of the past. Now, there's an app that will allow more law enforcement agencies officers to see what the drone sees, in real time, from their mobile device or web browser.
Put more eyes on the scene by livestreaming video
Whether department-issued or personal, most law enforcement officers carry a video camera in their pocket or on their duty belt. Callyo's 10-21 Video app gives any law enforcement officer the ability to livestream video from their iPhone, Android or webcam and to view another officer's livestream from their mobile device.
Being able to livestream video is a powerful capability when public safety is at risk.
For instance, during the NASCAR Daytona 500 race in February 2019, Volusia County Sheriff's Office deputies providing security for the event spotted a suspicious package. Instead of having to call in the bomb squad to investigate, deputies streamed live video of the suspicious package for the command post to review. Within moments, command staff were able to identify the package, explain why it was there and avoid making a potentially disruptive scene at the race.
Now, the same livestreaming capabilities of 10-21 Video are available in a new app specifically designed for use with drones.
Video livestreaming takes flight
10-21 Flight allows seamless recording and livestreaming of onboard drone camera footage to multiple devices at once, giving law enforcement agencies more resources to search for a missing person, spot a suspect, identify a potential hazard like high water or even communicate during crises, such as hostage situations.
"Usually, if you want to watch a drone, you have to be hovering over the drone pilot's controller as she's flying," said Steve Ressler, president of Callyo, a leading provider of mobile technologies for law enforcement.  "With our software, basically anyone that has the 10-21 Video app can watch the drone in real time, whether that's on their phone or their desktop or your laptop."
10-21 Flight allows an unlimited number of viewers to access the drone's live feed using the 10-21 Video app or the 10-21.com website. Currently available with the Apple iPad, it's as easy as connecting the device to the controller and running 10-21 Flight as the flight control application. It supports most models of drones from DJI, the most prevalent supplier of drones to law enforcement agencies, including the DJI Phantom 4 Series, DJI Phantom 3 Series, DJI Inspire Series, DJI Mavic Series, DJI M100, DJI M200, and DJI M600 drones.
Here are four key reasons why public safety agencies should consider adding 10-21 Flight to their UAS program:
1. Latency minimized
Latency is the delay before a transfer of data begins following an instruction for its transfer. Latency is super important because it determines how quickly you can see the stream, says Ressler. Even a few seconds lag time in receiving critical information is time for a bullet to hit its mark, a person to jump or an explosive device to detonate, so, in public safety, lower latency can literally make the difference between life and death.
After signing in to 10-21 Flight, tapping the "Go Live" command broadcasts the video feed to additional devices in under two seconds – the lowest latency in the industry.
2. Thermal camera, spotlight and loudspeaker support
In addition to livestreaming video, 10-21 Flight integrates with and commands externally mounted accessories like thermal cameras, spotlights and loudspeakers, which provide added capabilities.
Thermal cameras mounted on drones are becoming increasingly important in public safety, whether to search for missing persons or suspects in the dark.
Spotlights are essential to throw more light on an accident scene or to assess damage from a natural disaster.
Loudspeakers are also being more widely used for a variety of purposes from negotiating with a barricaded suspect, communicating with victims stranded in remote areas to warning a surfer of an approaching shark.
3. Manage drone video recording as evidence
In addition to being able to livestream drone video to multiple devices, with 10-21 Flight Enterprise Edition, drone footage is automatically stored to the CJIS-compliant AWS GovCloud. Footage is secure even if the drone is damaged or lost. Also, the footage doesn't need to be downloaded or stored on a personal device and the immediate storage preserves the chain of custody and integrity of the evidence.
4. Dedicated to public safety
10-21 Flight is compatible with the public safety broadband networks, meaning that for first responders the video streaming app will still maintain low latency in the event of an emergency or during large-scale events like the Daytona 500 where there is a high volume of traffic on the network.
The unique perspective that a drone provides enhances the situational awareness of public safety agencies by helping them see things they could never see from the ground, scope out a situation from a safe distance and get intelligence in advance that can help them formulate more strategic and successful outcomes.
By enabling livestreaming of drone footage to an unlimited number of users, 10-21 Flight gives added capabilities to public safety UAS programs and multiplies the number of eyes (and brains) available to search for victims, assess a scene and keep first responders and the public safe.

Request information from Callyo
Thank You!