Product Review: Testing the feature-rich Garmin 64st GPS
Garmin uses a system called BirdsEye that allows you to utilize satellite photography as your map, giving very real detail of your surroundings
---
I was in a big box electronics store recently and was surprised to learn they no longer sold handheld GPS units. When I asked an employee the reason, he said he thought it was because "there is an app for that."
Smartphones and navigation apps may be fine for city-bound folks looking for the nearest Starbucks (including me), however, I harkened back to a time not so long ago, when I would be dragged from my slumber by a ringing telephone — the kind that plugged into the wall — rushed to a nearby airport, thrown into a waiting helicopter, flown to the top of a mountain and summarily dropped off in search of some lost soul. In those aerie summits, radios didn't always work, and cellphones (the vehicle-mounted, bagged monstrosities) were no good outside of a short radius of the only cell tower in the area. 
So how did we navigate and not become lost ourselves?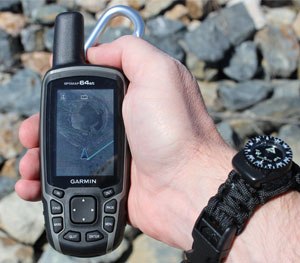 Historic Navigation
Early GPS models were not terribly accurate, took a long time to establish signal, and were nightmarish for anyone inept in math to operate. They reported your location through a series of numbers eight-to-nine digits long, known as latitude/longitude, or GPS coordinates. 
Conversely, modern GPS units report real-time and use a map display on the screen that shows your location relative to ground features you can see mountains, highways, lakes, etc. You can also use them to set waypoints, or critical location saves. If you want to navigate back to these, the GPS works better than the breadcrumb trail Hansel and Gretel used. 
Garmin sent me their latest GPS device — the 64st — to test out and to prove there is still a need for such technology in an app-happy world.
Near my home in Colo. there is a canyon with no cellphone signals or even AM/ FM radio and 800 MHz. To my knowledge, even smartphone apps that function as stand-alone GPS devices without the need for cell service don't perform in the canyon. I set off with a map, compass, the Garmin 64st and a plan to test the GPS side-by-side with my smartphone.
This canyon, carved over millions of years by melted snow flowing south, provided an amazing opportunity to show the limitations of our modern navigational tools.
The Right Tools for the Job
The Garmin 64st is a slick model. The color screen display is a good size (2.6 inches) and I was pleasantly surprised that I was able to view it in any light. Previous models I've used would be washed out in too much sunlight. 
The map itself was wonderfully detailed. Garmin uses a system called BirdsEye that allows you to utilize satellite photography as your map, giving very real detail of your surroundings, trees, houses, rivers, even parked cars. 
You also have the option to switch the map to traditional topography if you want to read elevations and terrain contours. 
Garmin offers a computer program called Basecamp that allows you to sync your GPS with your computer. Information such as waypoints, tracks, destinations and more can be uploaded to the GPS from your computer,  allowing you to plan your trip with a significant degree of accuracy. 
The 64st has an intuitive control system consisting of analog buttons (no touch screen on this model, but others do) that I easily navigated without having to refer to directions. The unit itself is small, about the size of a family band walkie-talkie, with an obvious antenna at the top. This external quad helix antenna helps the unit acquire and pull in satellite signals wickedly fast. 
The 64st accesses Global Positioning System (GPS) satellites as well as Russia's, Global Navigation Satellite System (GLONASS). The case feels sturdy and comes with a combination belt-clip/carabiner that allows the user to secure the GPS externally for quick reference — better than digging for it in a pouch or pocket. The 64st is feature-rich navigationally and boasts the ability to wirelessly share information with compatible units. It also includes a three-axis compass, and barometric altimeter to give you a jump on the weather. 
However, when I entered the Canyon of No Signal, I only had concern for one function: would it work?
I parked at the trailhead and set up my map case.  I pulled out my cellphone and activated a GPS app I have used in more civilized terrain.  I laid the phone next to the 64st and turned the GPS on.  Within ten seconds the GPS had my location fixed on a map.  My phone took a while to come to the conclusion that there was no signal and it would not be able to advise me of my location. This was proof positive — cellphones need a cell carrier signal to access GPS data — the GPS gets it straight from the satellites in space.

(Photo courtesy Sean Curtis)
Conclusion
The Garmin 64st is a robust platform that offers an excellent value. The unit as tested has a suggested retail price of $349.99 and comes pre-loaded with topographical maps and a one year subscription to BirdsEye. 
It also comes with the belt-clip/carabiner, a USB interface cable, and claims a run time of approximately 16 hours on two AA batteries.  I recall older GPS models having signal trouble with a nearby ridgeline, or even too much tree canopy. Perhaps one of the most impressive aspects of the 64st is the ability to quickly acquire and hold signal — thanks to the quad helix antenna. This feature allowed me to accurately navigate in an area where I could not call out for help with anything short of smoke signals.