US states seeking balance on police drone policies
More than 35 states will consider drone legislation this year
---
By Michelle L. Price
Associated Press
BRIGHAM CITY, Utah — U.S. law enforcement, government agencies and others are itching to use drones for everything from finding lost hikers to tracking shifting wildfires. But privacy watchdogs are urging state legislatures to step in and head off any potential privacy violations.
That tension is on display as more than 35 states consider drone legislation this year, according to the National Conference of State Legislatures. The bills include ways to attract an industry that could generate billions and restrictions on drone use and data collection.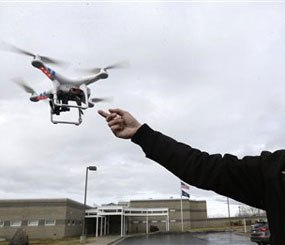 "It's in its nascent form now, but it's growing and will be growing in the future," Steve Erickson, who leads a privacy watchdog group called Citizens Education Project, told Utah lawmakers recently.
The proposed legislation comes as states are awaiting clear federal guidance on drones. Many states have taken additional steps to lure the unmanned aircraft industry, such as trying to become a federal testing site, with hopes it will be a financial boon.
The balancing act is playing out in stark relief in Utah, where there's a long history of suspicion at government intrusion and where drones are ideally suited to help authorities patrol largely rural, unforgiving terrain.
State Sen. Howard Stephenson is warning that the state needs to set ground rules about law enforcement use of drones before they become more widespread. To convince his colleagues, he played a video clip of George Orwell's "1984" in which a drone hovers and peers into windows.
"I don't think we want that type of thing happening in our society," he said. "It's a very frightening thing."
His legislation would restrict law enforcement from collecting or using data from a drone without a warrant. It also restricts the collecting and saving of any unrelated images captured by the drones, and prohibits nongovernment agencies or individuals from sharing drone images with law enforcement, except in emergencies.
The restrictions, which are similar to those adopted in other states, also come with an olive branch — the legislation notes lawmakers do not want to hamper the industry and research and cites the expected benefits the devices will bring to society.
About an hour north in Brigham City, nestled against the Wasatch Mountains, Box Elder County Sheriff J. Lynn Yeates said he's cognizant of the privacy concerns, but said a $7,000 multirotor drone his department has is solely for search and rescue and fire spotting.
The black aircraft, about 20 inches (51 centimeters) long, buzzes like a swarm of bees and can travel up to 2 miles (3.2 kilometers) in any direction. It's equipped with GPS and a camera that sends a live high-definition feed to Yeates and his team.
Yeates said it can be used to find hikers and others who get lost in the nearby steep, winding canyons and crevices every year. He said the device will not only save hours when trying to rescue people, but it will be less dangerous for his all-volunteer rescue team.
Legislators in other states are also diving in with specific rules.
In Rhode Island this year, lawmakers are considering legislation that requires law enforcement to hold public hearings before acquiring a drone. They'd need approval from local leaders or the governor, and would need to consult the state attorney general and a judge before using it.
California legislators are considering measures that would require police to obtain a warrant when using drones and notify the public when they intend to use them. It also requires any data collected to be destroyed within six months and bars public agencies from arming the devices.
Copyright 2014 The Associated Press