PRESS RELEASE
First of the New Zodiac EDO NG Rigid Inflatable Boats Approved for French Navy
---
use if there is a picture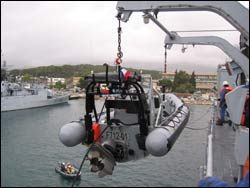 end picture
The first of 35 newly-designed RIBs for the French Navy has been delivered by Zodiac Hurricane. The new 7-metre (22-feet) Zodiac EDO NG RIB was tested and approved in January for use by the French Navy by the Directorate General of Armaments. It has now been delivered to the Frigate Courbet which will be able to use it for a wide range of tasks including fast rescue, boarding and interception.
The Zodiac EDO NG (Embarcation de Drome Operationelle - Nouvelle Generation) is manufactured in Canada and designed to function as a high speed craft suitable for a wide range of naval operations. The new boat is SOLAS approved and is operated with a crew of two. It is powered by a 225 hp inboard diesel engine making the two-ton craft capable of speeds greater than 35 knots with five people on board and 30 knots when carrying 14 passengers.
Each Zodiac EDO NG is fitted with a light machine gun and for operational versatility has dual davit lifting points in addition to a single point lifting frame. This will enable the remaining 34 RIBs on order to easily equip most of the frigates in the French navy as well as the new FREMM multi-mission frigates currently under construction.
Zodiac Hurricane is part of Zodiac MILPRO (Military and Professional) which belongs to the Zodiac Marine & Pool Group. The company operates in three sectors that provide a comprehensive service to their specialised markets. The Zodiac Military and Professional (MILPRO) sector supplies inflatable and semi-rigid craft for professional users such as police, coast guard, special forces, anti-terrorism units, fire teams, the offshore industry and other military users. The boats it manufactures range from 4. 7m to 12m long and are available in configurations that include inflatable and rigid inflatable boats with aluminium or fibreglass hull designs, inflatable or foam tubes, diesel inboard or petrol outboard engines. The Zodiac SOLAS sector supplies life rafts for merchant ships, ferries, and cruise ships and complete rescue systems combining escape slides and rafts. The Zodiac Recreational sector manufactures inflatable and semi-rigid craft that are distributed under the Zodiac, Bombard and Avon brands.