PRESS RELEASE
New product announcement: Public Access Quiklitter
---
SALIDA, Colo. — The new Rescue Essentials Public Access QuikLitter™ was designed specifically to be a more visible and easily accessible casualty extraction litter placed in public places, such as commercial buildings, entertainment venues, or transportation hubs. The Public Access Quiklitter, is intended to complement existing public access to AED and bleeding control stations and can be used by either trained professionals or the general public in emergency medical situations.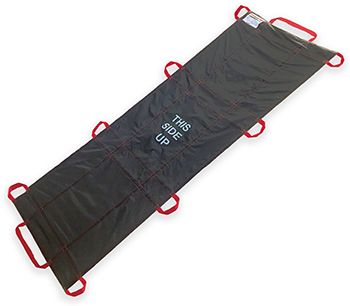 Lightweight and compact, the Public Access Quiklitter emergency litter weighs just over a pound and features 10 large handles with red webbing for high-visibility. The 500 pound load capacity makes it useful as a soft stretcher, a backboard lift assist, and MCI emergency patient transport. The new Public Access Quiklitter retails for $19.95.
"As awareness on the importance of public access to bleeding control increases, attention should also be paid to casualty collection" said Rescue Essentials President Phil Carey. "Getting the injured quickly and safely out of the danger zone and to a treatment area is critical to improving medical outcomes."
About Rescue Essentials
Since 2007, Rescue Essentials has remained focused on its original goal—to offer top quality tactical, emergency, combat, and outdoor medical products at affordable prices, delivered in a timely manner with flat rate $4.99 shipping. Rescue Essentials core capabilities includes the design, manufacture, and assembly of purpose-built trauma and medical kits for law enforcement, EMS and government agencies.
For more information on Rescue Essentials and their products visit www.rescue-essentials.com or call (719) 539-4843.